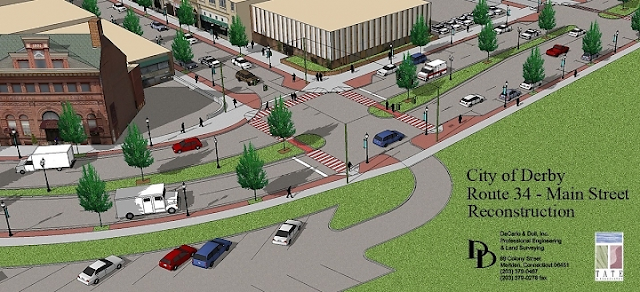 CT Construction Digest Wednesday 21, 2021
ABC announces new campaign to fight PLA legislation

Joe Bousquin
Associated Builders and Contractors has amassed a six-figure war chest to fight the use of mandated project labor agreements on federally funded infrastructure jobs.
Through Build America Local, a coalition of construction industry and business organizations led by ABC, the trade group has produced a 30-second commercial as part of an advocacy campaign aimed at the public and members of the U.S. Senate on PLAs, which it claims reduce competition and increase costs on projects.
"As Congress works to craft infrastructure legislation, it is critical for the U.S. Senate to oppose government-mandated PLAs so all qualified contractors and construction workers have the ability to fairly compete and build America's infrastructure," said Ben Brubeck, ABC vice president of regulatory, labor and state affairs, in a statement. "Ensuring fair and open competition on taxpayer-funded construction projects will ultimately result in savings to taxpayers, more opportunities for all qualified small businesses, minorities and women in the construction industry and the construction of more quality infrastructure projects so America can build back better and faster."
Project labor agreements are collective bargaining agreements that apply to a specific construction project, and only last for as long as the project does. In general, they virtually guarantee that a project uses union labor.
Some government contracts already require the use of PLAs; but private firms can too. For example, Toyota and Walmart have used them in the past.
Proponents of PLAs, such as the AFL-CIO trade union, argue that PLAs protect taxpayers by eliminating costly delays due to labor conflicts or shortages of skilled workers, because unions can quickly supply the labor needed. The group also claims that PLAs help improve the terms and conditions of employment for all craft workers — union and nonunion.
For example, the Massachusetts Building Trades Council, a coalition of 62 union groups representing more than 75,000 working men and women across the state, recently touted the signing of a PLA with Vineyard Wind, an 800-megawatt wind project located 15 miles off the coast of Martha's Vineyard, the first commercial-scale offshore project of its kind in the United States. 
"We can build back better with renewable energy and create union jobs at the same time," said Frank Callahan,  president of MBTC, in a statement. 
A non-partisan analysis by the Office of Legislative Research for the Connecticut General Assembly found that benefits of PLAs included:
Providing uniform wages, benefits, overtime pay, hours, working conditions and rules for work on major construction projects.
Providing contractors with a reliable and uninterrupted supply of qualified workers at predictable costs.
Ensuring that projects are completed on time and on budget due to the supply of qualified labor and relative ease of project management.
Ensuring no labor strife by prohibiting strikes and lockouts.
Making large projects easier to manage by placing unions under one contract.
As part of its American Jobs Plan, President Joe Biden's administration has proposed using PLAs on federally funded infrastructure jobs. Biden has also voiced support for the pro-union Protect the Right to Organize (PRO Act) and has called himself a friend of unions.
But ABC, as well as the Associated General Contractors of America, both of which are funded by construction employers, have voiced strong opposition to the PRO Act and PLAs, especially in the context of the infrastructure debate currently playing out in Washington, D.C.  
ABC's announcement of its education campaign listed elements of PLAs that it characterized as discouraging competition via a "rigged bidding process" that forces contractors to:
Use union hiring halls to obtain most or all workers instead of their existing workforce.
Obtain apprentices exclusively from union apprenticeship programs.
Follow "inefficient" union work rules.
Pay into union benefit and multi-employer pension plans that any limited number of nonunion employees permitted on the project will be unlikely to access unless they join a union and vest in these plans.
Require their existing workforce to accept union representation, pay union dues and/or join a union as a condition of employment on a PLA jobsite and receiving benefits, resulting in an estimated 20% hit to the paychecks of local craft professionals.
As the negotiating over a bipartisan infrastructure deal continues in Washington, whether PLAs are included is sure to remain a key issue, as Democrats push to include them and construction employer organizations like ABC fight to make sure they aren't.
Work begins on $8 million project to restore a seawall along the Byram River - and remove an eyesore
Robert Merchant
As major construction projects commence in Port Chester, N.Y., concerns about noise and heavy machinery are rising in the nearby Byram neighborhood of Greenwich.
A large crane has been moved into place by barge, and construction equipment is starting to excavate the shoreline along the Byram River, where a collapsed bulkhead will be restored. Pile driving is expected to commence in the coming days for the $8 million seawall repair project, which is expected to run for about three years.
Noise could be a problem in Byram as a result of the work, which is on the Port Chester side of the river, and First Selectman Fred Camillo sent an advisory to the neighborhood to warn about the construction work.
"There may be noisy conditions created by the heavy machinery and equipment needed for the project as well as ground vibrations when sheet piling is driven or drilled into the shoreline bedrock. We will continue to be in contact with the village administration should any concerns arise with our residents or businesses in the area," Camillo stated.
Neighbors are getting apprehensive about the increasing noise and construction activity in the area, said Joseph Kantorski, chairman of the Byram Neighborhood Association.
"Noise has a way of traveling across water," he said, "It could be an issue; we'll monitor it."
In addition to the bulkhead repairs, work is also set to begin soon on a six-story building, called Tarry Lighthouse that will include 209 rental apartment units along with retail and restaurant space at 175 N. Main St. in Port Chester. Kantorski said the Byram community is bracing for construction vehicles using local streets to access the construction site.
Port Chester is in the middle of a building boom that is adding hundreds of new residential units and a substantial amount of commercial space to the area. In addition to the Tarry Lighthouse project, a large residential building — nine stories tall with office space — is planned near the Port Chester railroad station, not far the Greenwich border.
The bulkhead work is contracted out to Navillus/ Marine Construction for about $8 million. The bulkhead has been in poor condition, and it collapsed in separate sections around a decade ago. Along with the repairs, a riverfront promenade will be installed in the area, as part of a long-term goal to "reactivate the downtown waterfront," in the words of Port Chester Village Manager Stuart Rabin.
"It's been a long time coming," Rabin said at a recent ribbon-cutting ceremony for the project.
The bulkhead lies along an inlet of the Byram River, with the Greenwich neighborhood of Byram just on the other side. At the recent ceremony, Port Chester Mayor Luis Marino said the bulkhead repairs would benefit the Byram community by removing an eyesore along the waterfront.
CT manufacturer working to construct 'one of the greenest buildings in the world'

Alexander Soule
NORWALK — Against the clatter of power equipment and steel girders in Norwalk, crews frame what is expected to become Connecticut's "greenest" commercial building.
HMTX held a "topping off" ceremony Tuesday as it added the final girders for a new design center at its Norwalk headquarters, equipped to help flooring designers come up with new ideas and fabricate speedy prototypes in advance of big orders.
HMTX sells luxury vinyl tile and floor planking, which have become a hot commodity the past decade, in part for allowing designers to recreate the look of far-more-expensive alternatives or even tile designs in historic edifices. The company went on a steep growth trajectory several years ago after landing a supply deal with Home Depot, then kept up with deliveries during the COVID-19 pandemic despite disruptions at U.S. ports and factories HMTX has in China.
CEO Harlan Stone is counting on the new "house upon the hill," as he dubs it, to make HMTX nimbler yet. The facility will include some of the most advanced 3D printers in the world to crank out flooring samples in a span of hours. The building will include small apartments for designers to use on any extended visits.
"Why did we go ahead to build this big, giant building ... during the COVID pandemic? Why didn't we just all stay home and do everything on Zoom?" Stone said Tuesday at the Norwalk construction site. "It's important that people are able to connect so that the creative energy flows. ... I think it's a classic, post-COVID building."
Light is a big part of the center's design, with ample windows and solar panels supplying all of its electricity needs during the summer months. Rain gutters will shunt away water into a massive tank for reuse as well.
Architect Jason McLennan said on Tuesday that the building is the most significant project he has worked on yet. McLennan is viewed as a guru in the green building industry via the Living Building Challenge he created, which runs a certification program.
"This will be ... a landmark for this city as one of the greenest buildings in the world," McLennan said. "It will feel like you're in a tree house when you are up there."
Stone said 20 to 40 construction contractors have been on site each day in Norwalk. He said the building's outer envelope should be complete by the time colder weather arrives, leaving only the interior fit-out in advance of a target grand opening by the start of next summer.
"This is a complex project (and) it's a difficult site, but everybody's enthusiastic about it," Stone said. "People come here and they see something that is not a poured (concrete) slab, a regular four-story simple building. ... It makes me feel like there's energy and creativity in the construction business."
HMTX is squeezing the building onto a small ridge line between the Route 7 Connector to Interstate 95 and Oakwood Avenue, which has a run of residential and commercial buildings overlooking the Merritt 7 commuter rail station of Metro-North.
The company is planting 40 trees to replace those it cleared away for the new building, starting with a yellowwood which now grows alongside the steel girders of the project. Some of the oaks are being milled for surfaces and decorative elements inside the building. HMTX's general contractor Shawmut is reusing granite from the site as well, as material for exterior retaining walls.
While the new Norwalk building will function first and foremost as a commercial design facility, Stone said he is open to the idea of offering it up as a space for charitable functions and events, or holding open houses to kids interested in careers in sustainability, architecture or related fields.
Mayor Harry Rilling noted Norwalk knows well the impact of severe weather and climate change. The 2012 Superstorm Sandy destroyed houses in multiple neighborhoods, and four years later the city's water supplies dropped to crisis levels during a prolonged drought that weakened trees statewide, intensifying damage in later storms including Tropical Storm Isaias last August.
"We're always looking for ways we can reduce our carbon footprint in the city of Norwalk," Rilling said. "This building is ... a perfect example of what we should be doing."
High bond rating helps New Milford secure $9.3 million for projects

Currie Engel
NEW MILFORD — The town received high ratings from a bond credit rating service Monday that is expected to help finance several infrastructure projects, according to a press release from the mayor's office.
The town was able to secure $9.3 million in bond anticipation notes— smaller, short-term bonds— to go towards construction on roads, bridges and the library's renovation. It was also able to convert $9 million in bond anticipation notes to permanent bonds that can be used for roads, roofs, and the library project, as well.
The borrowing rate for the bond anticipation notes was set at .149 percent.
The town was also awarded an Aa1 credit rating, the second-highest rating given by Moody's Investors Service. It also received the highest rating, MIG 1, for its bond anticipation notes.
The press release said that Moody's said the town had "strong liquidity and reserves, healthy financial profile and strong resident wealth" which helped New Milford achieve these high ratings.
New Haven property owners propose 7-story apartment building on Crown Street

Mary E. O'Leary
NEW HAVEN — Gaps in the city's streetscape continue to be filled in with housing, with the latest plan submitted for Crown Street, where a seven-story building is proposed.
A total of 106 apartments across two buildings has been submitted to the City Plan Commission by the owners of 208-216 Crown St., which include several members of the LoRicco family.
Attorney Ronald LoRicco, one of the owners, said they want to secure approval for their plans.
He said they are not sure whether they then would undertake the development themselves or sell it to someone with the approvals in place.
"We haven't crossed that bridge yet," he said. LoRicco said it seemed the most prudent thing to do was get the necessary land-use sign-offs first.
Apartments have been added to most of the small commercial buildings on that block of Crown Street.
They have hired architect Ken Boroson and attorney Ben Trachten.
LoRicco said there will be a total of 106 apartments erected from 208 to 216 Crown St., which includes a lot now leased to ProPark and a two-story building that would be razed. The office condominium the family owns at 216 Crown would be retrofitted for apartments.
The first floor would have a commercial space with six floors of apartments above.
The proposal for the existing building would have 4 studios, 17 one-bedroom units and 13 2-bedroom apartments — for a total of 34, according to the plans.
The additional structure would feature 18 studios; 30 one-bedrooms; 6 one-bedrooms with a den; 18 two-bedrooms for a total of 72 apartments.
The plans were to be discussed at the Downtown-Wooster Square Community Management Team meeting Tuesday night.
Ian Dunn, chairman of the team, said they always are interested in adding quality affordable housing to projects in New Haven, but they also recognize the importance to the city of adding new construction to the tax base.
He said he welcomed developers talking to them to continue a conversation on how to close the gap on the need for more affordable housing.
The city is reviewing proposed new rules under inclusionary zoning that would require between 5 percent and 10 percent affordable units in new construction or major rehabs downtown. The alternative would be a contribution to an affordable housing fund.
There has been an uptick in construction before the rules go into place.
Apartment construction in the downtown area has continued unabated through the pandemic for the bigger complexes in Wooster Square and are now picking up again for smaller projects.
Along Olive, Union, Fair and Chapel streets, a total of 717 apartments in Wooster Square are being built or proposed by Epimoni and a separate developer, Hines.
More funding expected for Ansonia Copper and Brass

Eddy Martinez
ANSONIA — Mayor David Cassetti has called his economic revitalization initiative 'Ansonia Recharged' since 2013, when he originally ran for office.
"That game plan was to work with Ansonia Copper and Brass and bringing it back to economic prosperity," Cassetti said. His administration later on issued a logo for 'Ansonia Recharged,' complete with a lightning bolt over the "o".
And now the city could be getting another jolt from above in the form of $2 million in state bonds to renovate the Ansonia Copper and Brass facility. The State Bond Commission is expected to approve the funding later this week as part of a bonding package for projects across the state.
State Rep. Kara Rochelle and state Sen. Jorge Cabrera, who both represent Ansonia and Derby, applied for the funds. The Bond Commission will make its decision Friday, although once placed on the agenda projects are rarely turned down.
The funding comes about one week after Gov. Ned Lamont visited the former Farrel Foundry nearby to announce that the city would get $1 million to demolish that dilapidated facility.
The money for the Ansonia Copper and Brass site would go in part towards renovating the 175,000-square-foot extrusion mill at the site.
"These would be the first major state funds secured to renovate and revitalize the Ansonia Copper & Brass site, which has been a priority of mine for many years," said Rochelle. "With this needed funding, we hope to lure developers to the site, grow our grand list, increase property values, bring jobs to the region and give the city the opportunity to lower property taxes."
Cabrera called the funding a "game changer" for the city.
"This is only the beginning of more great things to come for Ansonia," he said.
The complex consists of several rusting buildings spanning more than 40 acres of Naugatuck riverfront property.
Sheila O'Malley, economic development director for Ansonia, said the city previously did a study that showed the site could be salvaged and repurposed for other uses. Companies are eager to set up shop in the city and the site once renovated would be an attractive location for businesses, O'Malley said.
She said cooperation from city and state officials was essential to getting the funds for renovating the extrusion mill.
"This is a direct request to our state legislators for authorization for this $2 million. So I have to give credit where credit is due," O'Malley said.
In a press release issued by Rochelle's office, it was noted that the renovations would consist of repairing the roof, replacing the HVAC system and demolishing portions of the mill and surrounding buildings in order to improve access. O'Malley said that an access road would need to be built for the mill as well.
The city has additional grant applications that are currently under consideration by the Environmental Protection Agency and the Connecticut Economic Development Association for the facility.
For Cassetti, the money acts as proof that the city is indeed recovering.
Correction: A previous version of this story misstated the status of the $2 million, the name of the official in town last week and the amount awarded for the Farrel property. The $2 million is expected to be awarded and it was Gov. Ned Lamont who was in town to award $1 million for the Farrel property.
Southington developer plans 30 houses off West Street

Jesse Buchanan
SOUTHINGTON — A local developer is looking to build more than 30 homes off West Street and says there's strong demand for the $600,000 houses he is planning. 
Mark Lovley requested town approval for an open space preservation subdivision on a 50-acre parcel at 1268 West St. He said the design, which allows for smaller lots, will allow him to keep 12 acres as open space. A conventional subdivision layout would only preserve about two acres of open space.
"It'll keep a lot of area natural and not developed which is good," Lovley said of his proposal.
He's still finalizing plans for the subdivision but believes he can fit 34 homes on the property.
Upscale homes
The property is a long stretch parallel to Churchill Street with a small portion of West Street frontage. The homes would feature four bedrooms, two-and-a-half bathrooms, two or three car garages and  2,500 to 3,000 square feet.
Lovley said the houses will start at $600,000.
"It's going to be upscale for sure," he said.
Lovley has developed a host of other subdivisions in town and said demand for housing in Southington is very strong. The West Street project is close to shops and restaurants as well as the highway. He has 10 people already interested in purchasing homes in the proposed development, he said.
The property is the last piece of a family farm owned by the estate of Frances Borysewicz. Lovley said there are nine relatives involved with selling the property.
Supply and demand
Matt Denorfia, a real estate broker and head of sales and marketing with AA Denorfia Building and Development, said there are plenty of willing buyers for homes in Southington.
"Most houses are multiple offer situations, over asking price," he said. "There's just a very limited supply."
The expense and scarcity of building materials has caused some construction outfits to pause, Denorfia said, leading to fewer new homes. Excellent mortgage rates also encourage buyers, creating even more demand for fewer houses.
Denorfia wasn't surprised to hear about more home building off West Street.
"There's just not as many parcels left," he said. "Where there's open land, people will build."
West Street has a mixture of residential and commercial real estate. Denorfia is hoping that the commercial side of real estate picks up after having been shaken during the pandemic.
The Planning and Zoning Commission expects to schedule a public hearing on Lovley's request at its meeting tonight. The meeting will take place at 7 p.m. at the John Weichsel Municipal Center, 200 N. Main St.
Paving work to begin on various New London roads

New London — J.H. Lynch Paving will begin prep work for paving of various streets in the city on Wednesday.
The work will start at Broad Street and continue to Dow, Georgiana, Cape Ann Court, Cedar Grove, Elm, Ashcraft and Blackhall streets.
The city's Public Works Department will be posting "No Parking" signs on the streets where milling is to occur with the proper notifications as the paving project progresses.
Second building in Taftville mill complex renovation receives nearly $800,000 state grant

Claire Bessette
Norwich — The renovation of the massive Ponemah Mill complex into more than 450 apartments was cited by state and local officials Tuesday as the perfect example of how state brownfields cleanup grants should be used.
Lt. Gov. Susan Bysiewicz highlighted the project during a news conference Tuesday while standing in front of the second mill to be renovated. She said the $797,000 brownfields grant was one of $19 million in grants awarded to 31 projects in 23 Connecticut cities and towns.
"It's a win for the environment. It's a win for our communities. It's a win for economic development and job creation, and it's a win for communities like Norwich, who now get more productive properties on their tax rolls," she said.
OneKey Inc. has completed renovations of the giant first mill in the complex into 237 market and affordable apartments, with 77 new units from the mill's rear wing to come online in September, OneKey Director of Operations Finbar O'Neill said Tuesday.
The second building, which formerly housed Central Sports and Amazing Furniture, will be renovated into 141 units, with the front former furniture store planned for a restaurant, food market or other commercial space, O'Neill said.
Alexandra Daum, deputy commissioner of the state Department of Economic and Community Development, said the Ponemah application scored high on the main goals for the highly competitive state brownfields funds, garnering extra points as a historic mill renovation, for providing needed housing and for leveraging private investment dollars.
The state's nearly $800,000 will contribute to a $40 million planned renovation, Daum said.
"Clearly, we're looking at a beautiful mill," Daum said of the property dubbed by Bysiewicz on Tuesday as the DECD brownfields czarina. "And the first phases have been done so well, so we're looking forward to the next phase going in the same vein."
The completed Ponemah units are 99% occupied. Daum, who has a background in real estate, said a 99% occupancy rate "just doesn't happen," calling it an "extreme demand." O'Neill said there is a waiting list for new units.
State Sen. Cathy Osten, D-Sprague, recounted a bit of the history of the 1860s mill, with Irish immigrants making up the first workforce before a labor strike forced them out and brought thousands of French Canadian families to Taftville. Many of their descendants still live in the area, she said.
"Many mills get taken down, and we don't see the value of them," Osten said. "But the sites here, the apartments here are beautiful, and they are perfect places for that next generation of workers that we have here that come from Electric Boat, that come from Pfizer, that come from the Sub Base. We are building up the workforce here in eastern Connecticut."
Osten, chairwoman of the General Assembly Appropriations Committee, thanked OneKey developers Finbar and Paula O'Neill for "having a vision that takes a site from dilapidation to beautiful."
O'Neill said the residents range from empty nesters to young professionals working in the region. He said he did not have statistics on where the residents work but said "quite a number" work at EB. Rents start at $1,005 monthly for a one-bedroom unit, according to the Lofts at Ponemah Mills website. Two-bedroom units start at $1,195 monthly and three-bedroom units start at $1,875 per month.
The brownfields money will be used to clean the building of asbestos and lead paint and to clean out coal ash from the rear of the property near the Shetucket River. The second mill has two stories in front facing Route 97 and three stories in the rear facing the river.
Work is expected to begin by the end of summer, and the renovations are expected to be completed and ready for occupancy by the end of 2022.
OneKey also purchased a commercial building across the street that had been the mill complex store and social hall. Nutmeg Pharmacy and Hair Do's salon occupy spaces in the building, and O'Neill said he hopes to bring sandwich shops and other food service businesses to the site.
UConn's $4.2M land purchase draws the ire of Mansfield town officials

Sean Teehan
Mansfield Mayor Antonia Moran on Tuesday accused the University of Connecticut of "blindsiding" the town by purchasing a parcel of land on which the town was expecting an affordable housing project that could have added $2 million per year to the municipality's tax rolls.
"We were counting on this development to reduce taxes or stabilize taxes, to provide services for Mansfield's community, and to provide stability to the town," Moran said during a Tuesday morning press conference. "We'll take any action we can."
Moran's statements came after UConn's Board of Trustees on June 30 approved the university's $4.2 million purchase of a 19.4-acre parcel in Mansfield's Four Corners section, adjacent to the UConn Innovation Partnership Building — known colloquially as the UConn Tech Park. 
Alabama-based developer Capstone Collegiate Communities was in the advanced design stages on a proposed 358-unit multifamily housing development on that land, which would have included 30 units for low-to-moderate income residents, Moran said. UConn last year filed suit against Capstone and the town, arguing the project would interfere with plans to fully develop the Tech Park.
However, a UConn spokesman on Tuesday said the university filed the lawsuit out of concern for the environmental impact on nearby wetlands in addition to concern the project would stymie the university's future ability to develop the Tech Park. He said UConn's purchase marked an amicable settlement between Capstone and UConn.
Moran said in addition to the lawsuit, UConn threatened it would block the development from access to the new $9 million Four Corners sewer and water system, $3 million of which was paid through state funds. The mayor said UConn's actions could have a chilling effect on the town's ability to attract developers for housing projects.
Town officials also pointed out that, since UConn is a nonprofit, the most revenue they can get from UConn properties — through a payment in lieu of tax agreement — is 50% of tax revenues they'd receive from a private property owner.
"We're angry about this. That's really an understatement," Moran said. "We're exploring all our options to fight this decision."