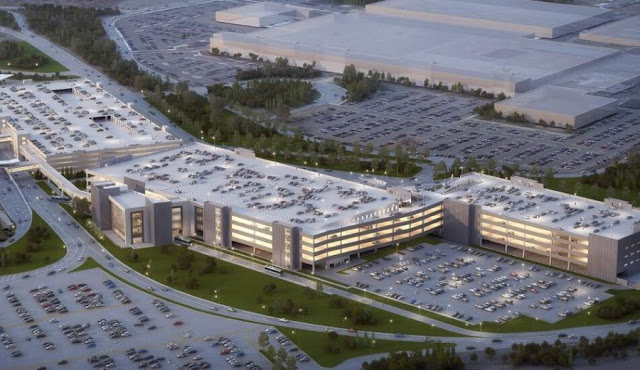 CT Construction Digest Thursday November 19, 2020
Connecticut's $210M Airport Transportation Center Project Ahead of Schedule

While the pandemic has significantly impacted air travel at Connecticut's Bradley International Airport, it also has played a role in keeping one of the state's biggest construction projects ongoing, or slightly even ahead of schedule.
A new $210 million Ground Transportation Center planned for the airport has been slated for substantial completion in February 2022, with an official opening the following May.
Bradley International Airport is located north of Hartford in Windsor Locks. The 1.4 million sq. ft. transportation center will be built on a 13.4-acre site located west of the existing short-term and long-term parking garage.
With a direct connection to Terminal A, the new facility will accommodate rental services, increase public parking availability and incorporate public transit connections.
Once the transportation center has been built, travelers will be able to rent a car without having to leave the airport property. Car rental companies have always been off-site at the airport, and travelers must wait for a shuttle bus before taking a five-minute ride to get to them.
Connecticut Airport Authority (CAA) executive director Kevin Dillon said the project, which broke ground in the summer of 2019, is a bit ahead of schedule, due to good weather, and the availability of workers.
"Construction as you could imagine, is off in a lot of locations, a lot of places have scaled back in terms of moving ahead with projects," Dillon explained. "If we weren't as far advanced with this project prior to the pandemic, we might have had to slow it down somewhat. But we were already committed with the financing and we had purchased all the materials. So, it made all the sense in the world for us to continue on."
He added the Bradley International Airport Transportation Center project is being financed solely through rental car revenues.
The project also includes plans to open the airport to a new set of travelers, according to Dillon.
"We're also envisioning a transit center where we can process bus passengers, and hopefully in the future also process rail passengers as well," he said.
The new Ground Transportation Center will increase public parking spaces by almost 10 percent at the Hartford airport. Currently Bradley has approximately 8,000 parking spaces. The project will add roughly 830 spaces, of which 480 will be covered and 350 uncovered.
As for what will happen to the property where the car rental companies are currently located, the CAA said those lease agreements will continue for the foreseeable future even after the Ground Transportation Center is completed.
AECOM beats Q4 estimates, sees opportunity in Biden administration

Los Angeles-based construction and engineering giant AECOM beat Wall Street earnings and revenue estimates for its fiscal fourth quarter, even though both profits and sales were lower than a year ago, reflecting the headwinds that have come with the COVID-19 pandemic during 2020.
The company reported adjusted earnings of $0.60 per share, besting analysts' consensus estimates of $0.57, according to Zacks, on revenues of $3.57 billion for the quarter, 7% higher than consensus estimates. But a year ago, before the onset of the pandemic as the construction industry boomed, AECOM posted earnings of $0.79 per share on $5.12 billion in revenue.
On a conference call to discuss the results, CEO Troy Rudd expressed hope for increased infrastructure spending under the Biden administration, as well as opportunities for its environmental services group with a renewed focus on climate change.
"The recent U.S. presidential election… is poised to create opportunities for us," Rudd said. "We see bipartisan support for funding to help our state and local clients weather the impacts of COVID, a continued focus on infrastructure investments as a job creator and competitive differentiator for the U.S. and an increasing regulatory emphasis on environment and water markets."
AECOM also said its backlog increased 13% compared to a year ago to $41.2 billion, and provided guidance for earnings growth in 2021, saying its earnings per share were on track to grow 23% over the next fiscal year. In addition, the firm completed $455 million of share repurchases since September, and its board approved expanding its stock repurchase program from $305 million to $1 billion.
Looking ahead
Rudd tempered his upbeat remarks by saying revenue growth would likely be flat in fiscal 2021. He also said any positive impacts from a new administration's approach probably wouldn't be felt until the second half of 2021, while uncertainty from the pandemic still hung over the sector. 
"There's no question that the impact of the pandemic has changed the world," Rudd said. "Here in the United States, we're seeing within our large client base, particularly our state and local government client base, continued uncertainty over funding. But we do believe that with the change in government that in the second half of the year, there'll be some certainty around funding that might be helpful for state and local governments."
He also said Biden's emphasis on the environment is a positive for AECOM and its customers.
"We see opportunity for an ambitious presidential agenda focused on climate change, which our clients have great ambitions for," Rudd said. "And then, you know, there seems to be some interest in a broader infrastructure investment from the new administration. So, again, I'm optimistic those things are kind of lining themselves up to address some of that uncertainty that exists in our large U.S. market today."
Business park in Occum still in the works

Matt Grahn  NORWICH — Norwich Mayor Peter Nystrom said he gets asked by businesses if there are any large plots of land available in the city. His reply is often "No" since most larger spaces are Brownfield sites, which are expensive to clean up.
However, if a land sale goes through, it will make large projects easier for businesses looking to come to the city.
"I get calls throughout the almost three years I've been mayor, and people are looking for 100 acres, 50 acres," Nystrom said. "I don't have anything to offer them, yet they want to be in this central location between Boston and New York, as well as the proximity to the two casinos."
On Sept. 30, the latest amendment to the Agreement of Sale of land from Byron Brook Country Club, LLC and M&A Holdings, LLC to the Norwich Community Development Corp. (NCDC) was signed, and was made public last Friday. NCDC, along with Norwich Public Utilities, has been working on developing a second business park in Norwich. The amendment states that NCDC has until Dec. 15, 2022, to make sure that the land is feasible for construction, which is currently when the decision to buy will be made.
"We negotiated a period of time to make sure the land is suitable and can be developed as a business park," said attorney Mark Block, representing NCDC.
Block believes it's important for the city to have more land with the development.
"If the city is going to attract any business or industry, we need areas that can be developed for the industries and businesses to locate," Block said.
Currently, Block said, that they are still checking the feasibility of the land.
"We're doing all the studies that are necessary to determine the suitability of the property," Block said.
The Agreement of Sale, first signed on July 31, 2019, stated that the total property sale, 272 acres over eight tracts, was worth $3.55 million, and initially required a $65,000 deposit. More deposits have been made, with a $10,000 deposit in the first amendment and $100,000 in the second amendment, and $150,000 in the fourth amendment, with half paid in January, and half in July.
The land in question held by Byron Brook Country Club, LLC and M&A Holdings LLC is in Occum. The properties in particular are on Scotland Road, Lawler Lane, Canterbury Turnpike and Bromley Lane.  
The owners originally bought the land for building 658 apartments with a golf course and country club, which was expected to cost $200 million. However, due to the economic downturn in 2007, the developer tried to change the project. The project was officially cancelled in 2011, after Norwich released $1.5 million in bonding back to the developers.
NOAA rejects objections to Electric Boat's use of dredging disposal site
The National Oceanic and Atmospheric Administration has upheld Electric Boat's request to use an eastern Long Island Sound dredging disposal site, according to a news release from U.S. Rep. Joe Courtney, D-2nd District.
Citing environmental concerns, the state of New York had taken several legal actions seeking to stop use of the site, referred to as ELDS. The state issued an objection to EB's permit application with the U.S. Army Corps of Engineers in December 2019, prompting the company to file an appeal with the U.S. Department of Commerce through NOAA, which makes decisions in interstate disputes over coastal resources.
The NOAA decision, which was issued Monday, rejects New York's objections to EB's use of the ELDS. The dredging work is considered essential for the construction of the company's new South Yard Assembly Building, which will be used for building the Navy's new Columbia class of submarines.
NOAA said the Navy warned that if EB can't proceed with using the ELDS, the Columbia-class program would be negatively impacted "by a delayed construction schedule and an increase in costs." The Navy also said "the use of any other site other than ELDS will not allow the dredging effort to be completed in the available dredging window," noting that would delay the delivery of the first Columbia-class submarine.
In a news release Wednesday, Courtney praised the NOAA decision.
"There has been a groundswell of input from small marinas, local and state officials, large stakeholders like Submarine Naval Base New London, Electric Boat, and many others, all strongly in favor of the sound selection of the ELDS," Courtney, who serves as chairman of the House Armed Services Subcommittee on Seapower and Projection Forces, said in the release.
He said the decision should not come as a surprise. The 1.3-mile underwater site, between the mouth of the Thames River and Fishers Island, was designated by the Environmental Protection Agency in 2016. It is viewed as crucial to maritime businesses like EB and Cross Sound Ferry, along with the Naval Submarine Base and a host of industries that depend on dredging of area channels, marinas, boatyards and harbors.
The EPA had taken "painstaking care to document both the environmental and economic impacts" of the dredging disposal site, Courtney said. He noted the selection of the site has been upheld in court — the U.S. District Court in New York in July upheld the choice of the dredge disposal site — and that approval of EB's permit application was critical to national security.
"I'll continue to work with my colleagues in the Connecticut and Rhode Island delegations to ensure that the lawful, sound selection of the ELDS is upheld once and for all for the benefit of our region," he said.
Work with local road-salt business displaced at State Pier

The Day Editorial Board  DRVN Enterprises set up shop at State Pier in New London in 2013 with a business model that seemed solid. It utilized the port to import road salt and an agreement with the former operator of the state facility, Logistec, to store its product. It competed for public and private business contracts, providing welcomed competition to suppress prices by way of a local supplier.
Then things changed. Control of the facility was transferred from the state Department of Transportation to the Connecticut Port Authority, created by state legislation in 2014. With the Logistec lease expiring, the port authority went to bid in 2018 to find the best deal for the facility, with Logistec competing to remain the pier operator.
By then, the vision for the facility had changed. An offshore wind-power industry was emerging. The New London port, with its access to future offshore wind fields unimpeded by bridges or other infrastructure, was particularly well positioned to serve as a pre-assembly and distribution hub for the massive wind turbines.
That is the big picture. The planned redevelopment of the pier to serve an emergent — in this country — offshore wind industry will be a job creator and major economic engine, while contributing to something that is desperately needed, a reduction in fossil-fuel dependence.
A public-private partnership will redevelop the pier as a staging area for the Revolution Wind energy project, a partnership of Eversource and Danish company Ørsted. Revolution Wind has committed to investing $77.5 million and the state and port authority at least $79 million, though the state's costs could go higher if there are overruns.
Once the overhaul is completed, Revolution Wind will lease the State Pier for $2 million per year for 20 years. The heavy-lift equipment installed in support of the offshore wind project will remain port authority property and boost the port's freight-bearing capacity when traditional port functions return in the 2040s.
It should be a success story, but the port authority has made a mess of things. In its start-up years, no-bid contracts were awarded and thousands of dollars expended on dining and travel by authority staff without proper documentation or justification, a state audit found.
The decision to award Gateway Terminal, operators of the port terminal in New Haven, the contract to also operate the New London port, thus displacing Logistec, remains a point of controversy. Abandoned with Gateway's selection was the original stated policy to continue using State Pier for freighter deliveries, with occasional disruptions, even as the offshore wind-power support hub was developed. Instead, the full focus will be on getting the pier redeveloped for the wind project. Other activities have ceased.
From a state perspective, this makes some sense. State Pier New London can be retooled without the state losing freighter business because it can be diverted to Gateway's New Haven port. But the loss of diversity in the use of State Pier was not good news for the New London port, with the city and region left hoping a wind-development hub, once completed, will be worth the tradeoff.
Which brings things back to DRVN. The company has been given until year's end to move its road salt material, which the company has estimated as worth $5 million. Owner Steven Farrelly has said he has been unable to find an alternative location. The salt would default to the port authority if it's not moved.
The authority should extend the agreement through the winter, giving DRVN the opportunity to sell off its product. Progress on permitting and the awarding of construction bids is behind schedule. Nothing significant will be happening at that site this winter. Meanwhile, the Southeastern Connecticut Council of Governments, whose member towns have reason to want to maintain competition, should make it self available to help DRVN find the means to continue.
Day columnist David Collins, in a series of reports, has pointed to Gateway not only gaining shipping commerce for its New Haven facility, but to its interesting connections to the road salt industry as well, with affiliated salt importing and distribution businesses that compete with DRVN operating out of its port.
It may well be time for the legislature's Transportation Committee, which held hearings in August 2019 into the port authority's earlier controversies, to get an update. The authority has a new executive director, John Henshaw, who held the same position for Maine Port Authority. The delays and issues raised by Collins' latest investigative reporting should be probed as part of any such update.
The Day editorial board meets regularly with political, business and community leaders and convenes weekly to formulate editorial viewpoints. It is composed of President and Publisher Tim Dwyer, Editorial Page Editor Paul Choiniere, Managing Editor Tim Cotter, Staff Writer Julia Bergman and retired deputy managing editor Lisa McGinley. However, only the publisher and editorial page editor are responsible for developing the editorial opinions. The board operates independently from the Day newsroom.