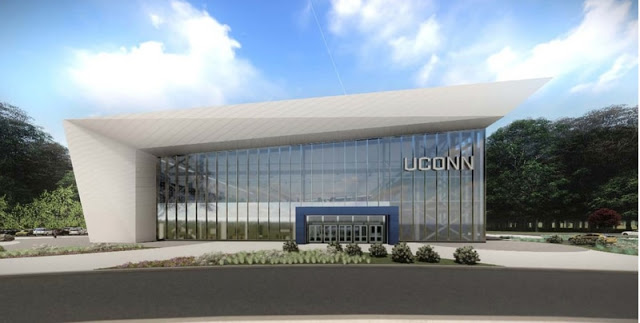 CT Construction Digest Thursday April 29, 2021
UConn Board of Trustees approves $70 million on-campus hockey arena with completion projected for fall 2022

Alexa Philippou
The UConn Board of Trustees unanimously approved a final $70 million budget for a new on-campus hockey arena on Wednesday, giving the school the green light to proceed with construction this spring in hopes of completing the long-awaited project in the fall of 2022.
The budget was $25 million more than the facility's initial $45 million expected cost and $22 million more than anticipated in September. A total of $52.8 million has been allocated for construction. There will additionally be a $7 million set of improvements to the I-Lot parking site to relocate 360 parking spots and accommodate the hockey arena's construction.
The new arena will offer a total capacity of 2,600, with 80 percent of bowl seating on seatbacks and the other 20 percent on benches. Upon completion, the new arena will host all of the women's team's games, but the school still intends to play most of its men's hockey games at the XL Center.
Though the capacity isn't overwhelming, the arena plans have been called "state-of-the-art" by Hockey East Association commissioner Steve Metcalf. The facility will be complete with locker rooms, training and conditioning spaces and coaches' offices. Fans will be able to enjoy a center-hung display scoreboard and an ice-level lounge behind the goalkeeper.
"I had the pleasure of speaking with [men's hockey] coach [Mike] Cavanaugh this past weekend and he's very excited and appreciative of the UConn hockey arena," said trustee Andy Bessette Wednesday in the board meeting. "I think this is going to be a real game-changer."
UConn hopes that an upgraded facility will stir fan interest, improve recruiting and propel the hockey program to new heights, with executive vice president for administration and chief financial officer Scott Jordan evoking his alma mater of UMass as an example.
"Really what kicked it off for [UMass] several years ago was the construction of a rink on campus," Jordan said. "When I attended UMass, there was no rink, no team, and now they're national champions. We hope the same happens to us."
The UConn men's hockey team is coming off a historic season, earning its first top-20 ranking.
"I would like to pass along my gratitude to University leadership for its continued commitment to athletics and for taking the final step in making this project a reality," athletics director David Benedict said in a statement. "Our men's and women's ice hockey programs have been competing at a high level under challenging circumstances, and the future of both programs got a lot brighter today."
The project, which pre-COVID-19 pandemic was initially scheduled to be completed in the fall of 2021, will use $17 million in university funds, $33 million in revenue bonds and an expected $20 million from philanthropy, over double what the school initially anticipated they'd receive in donations. Proceeds from the sale of the school's former West Hartford campus and the Nathan Hale Inn are responsible for $11.5 million of those university funds. Money from those sales must go toward capital projects and cannot be applied towards operating expenses.
Jordan said that the university has not issued all of the $185 million in bonding approved by the board for various new athletics projects, so the remaining $33 million will be issued for the hockey arena.
The construction of a new arena stems from the university's decision to join Hockey East in 2013, as the conference requires schools to have an on-campus arena that seats at least 4,000 people. As the school explored options for how to comply with that stipulation, UConn was permitted to hold games at the XL Center and ultimately negotiated down the on-campus facility seating requirement to 2,500.
The on-campus Freitas Ice Forum, which holds 1,650, is typically used as the men's practice rink and for the women's games, though during the COVID-19 pandemic it hosted all the men's home games. The new arena will be located adjacent to Freitas.
"We have been working with Hockey East on a scope that we could afford and through a variety of construction delivery methods to find the most efficient way to get this done," Jordan said. "For a time, we worked with a public-private partner to try to bring this in at a much lower cost. We, in that process, did develop a design for the building with an architect, but we and the private developer both agreed that we could not build it for what they originally proposed and that the university would continue work on our own."
The school ultimately bid the project out and received bids for $70 million, Jordan said.
The architect for the arena is JCJ Architecture, and Turner Construction Company is the construction manager.
Republicans attack Lamont climate-change and truck-tax proposals

Ken Dixon
HARTFORD — Republicans lawmakers, along with trucking and food-distribution executives, on Wednesday declared war on Gov. Ned Lamont's proposed regional climate initiative and user tax for heavy trucks on state highways.
They called for the state to invest instead in greenways and open space, and again called for the Connecticut's delegation in Congress to push for air pollution reductions in midwestern states whose emissions drastically affect air quality here through prevailing winds.
On a downtown street corner a block from the State Capitol complex, House Minority Leader Vincent Candelora and Senate Minority Leader Kevin Kelly charged that Lamont's participation in the regional Transportation and Climate Initiative would steadily raise gasoline taxes on working families while providing subsidies for wealthier residents to buy electric cars.
"Gov. Lamont and his majority are advocating for $200 million of taxes levied against gasoline and trucks that the middle-class families of Connecticut are going to have to pay at a time when the middle-class family is struggling," Kelly said. "These taxes are the most-regressive taxes. They're coming after the middle-class wallet. What's worse is that these taxes won't even deliver on the promised environmental clean air that they are focused to be used for."
Kelly, who represents Stratford, announced a "Stop the Gas Tax/Food Tax" rally that is scheduled for Thursday at the Wheels gas station and convenience store, located at 440 Lordship Boulevard in Stratford.
Under the TCI, petroleum wholesalers would pay for emission credits, raising pump prices by 5 cents a gallon in the first year, and not more than 10 cents a gallon by 2032, Lamont has said. The GOP lawmakers warned that it is likely to rise steadily over 10 years. Currently only three states in the region, Massachusetts, Connecticut and Rhode Island, along with the District of Columbia, have joined the TCI.
The proposal, which is estimated to bring in about $90 million in new state revenue in 2023, was approved by the legislature's Environment Committee last month and awaits further action in the General Assembly. The money would be used for transit and transportation improvements.
"Common sense dictates that three states, some of the smallest states in the union, could somehow come together and have an impact on our overall emissions throughout the state of Connecticut, doesn't make much sense when you think about it," Candelora said. "And what this is really all about is another attempt by the Democrats to pickpocket the state of Connecticut."
Joe Sculley, who as president of the Motor Transport Association of Connecticut represents the state's haulers, said the TCI could "crush" small business in the state by raising prices. "It's just a money grab," he said, adding that the truck mileage tax has failed in 20 states. He stressed that with no auditing in the rule, out-of-state-based companies would not pay it.
He called for the state to use its emergency reserves of more than $3 billion and federal pandemic relief of $2.7 billion to fund the state's transportation infrastructure needs. Additional money may come from the federal government to Connecticut under Presiden Joe Biden's proposed infrastructure program.
For John Pruchnicki, owner of the Ansonia-based Coastal Carriers of Connecticut, Inc., the highway-user tax on heavy trucks, which was approved last week in the legislature's Finance Committee, would add $175,000 to $200,000 a year to his business costs. He said he would pass that cost to his customers.
"We don't understand why there seems to be a target on the back of the trucking industry from this governor," Pruchnicki said.
"Simply put, the supply chain cannot be disrupted," said Pruchnicki, whose fuel trucks supply gas and heating oil dealers. "We as an industry won't let it happen. Those companies will pass on the additional costs at the pump, or the consumer of a house heated by heating oil."
"What we would rather see happen is that we utilize our funding to reduce congestion on areas like [Interstate] 95, to reduce greenhouse emissions through that," Kelly said, adding that rebates, credits and changes to building codes could be low-cost ways to fight climate change, combining with conserving green spaces.
Lamont, after an event in Meriden on Wednesday morning, said that the highway use tax is aimed at out-of-state trucks that take advantage of free interstate travel. He said he would listen to alternative proposals on how to fund the state's future transit needs at a time when the gasoline tax is failing to provide enough revenue.
"They keep making it up," Lamont said of the GOP criticism and campaign against his proposals.
"These trucks come in from four different states," he said. "Each of those states has either highway user fees or tolls, then they come into the state of Connecticut and get a free ride. I want to make sure these trucks pay their fair share when it comes to keeping up our roads and bridges. If they have a better idea on how they want to pay for the roads and bridges, I am all ears. Last time they said 'Let's raid the rainy day fund.'"
The governor's campaign pledge of 2018, to establish trucks-only tolls, was turned down by legislative Democrats. But during their attempts to defeat the idea, Republicans suggested that infrastructure costs could be paid through $700 million transferred from the emergency reserves — commonly called the rainy day fund — which is currently more than $3.5 billion.
The Republican leaders on Wednesday backed away from possibly suggesting such a use of the reserves this year.
Lamont recalled a recent news conference in which Republican lawmakers joined him at the Waterbury train station, where he promised improvements including two-way traffic on the train line to and from Bridgeport, if his transit initiatives win approval in the General Assembly.
"Everybody usually stands with me and says 'I'm all in favor of two-way service to Waterbury. I'm all in favor of infrastructure.' And I say, are you going to help me pay for it? Nope."
After seven years, foreclosure set for Beaton & Corbin site; here's what will take its place
Brian M. Johnson
SOUTHINGTON – After seven years, the foreclosure of the Beaton & Corbin site is taking place this week, clearing the way for the land to be remediated and developed by Lovley Development, Inc. into a 13,000 square foot strip mall.
Southington Economic Development Director Lou Perillo said the town has been working to get the property sold and back on the tax rolls since 2014. He anticipates the site should be remediated and the strip mall should be up by April or May of next year. The acre of property is expected to generate $40,000 to $50,000 in tax revenue.
"We're meeting this week with the Brownfield Land Bank who will be taking title of the land – that cleared court on Friday," Perillo said. "We should start reactivating the property by the end of next month. Crews will start by removing the brick pile foundation and we hope to have the new foundations in place by the end of the year."
Perillo said Mark Lovely has been on-board since 2014.
"We went out to bid publically and he was the only one to respond to the bid at the time," he said. "He could be using the strip mall for office spaces, retail or restaurants. The tenants have not yet been identified."
For this project, the town of Southington received a $400,000 grant from the Department of Economic and Community Development. Both the town and Lovely each put in $150,000 to the project as well. Additionally, Lovely secured a $400,000 low-interest loan from the Naugatuck Valley Council of Governments for the development of the site. The town is providing Lovely with a 10-year tax abatement contingent on the building being put up.
"We're very excited to see this project moving forward," Perillo said. "Some of the development will be done concurrently with the remediation work. As the excavators dig up the soil they can also dig the footings for the new foundations."
The former plumbing manufacturing plant site, located on the corner of Chapman Street and N. Main St., is adjacent to the firehouse. It was abandoned in 1989 and the site suffered from a fire in September 2003.
Town Council Chair Victoria Triano said the council is also "very excited" to see the project moving forward.
"We have been working on this for a very long time," she said. "We tried and tried and now we've finally got the property sold and headed for a productive relationship with the town." 
Waterbury receives funding for Brownfield cleanups

Michael Puffer
WATERBURY – The Naugatuck Valley Council of Governments has granted the city of Waterbury $486,000 to help ongoing cleanups of polluted industrial properties.
Most of this money will go to cleanups that have already cost millions of state, federal and local dollars and will cost millions more before they are finished.
Still, every contribution counts, Mayor Neil M. O'Leary said.
"When you do these brownfield projects, you get money from wherever you can in whatever amount you can because they can seem like bottomless pits in the beginning," O'Leary said.
Thomas Hyde, interim director of the Waterbury Development Corp., anticipates the money from the council will be more easily accessible than some of the larger state grants. This will help the city pay for planning and experts needed to be ready to begin heavy work once larger state grants can be accessed, Hyde said.
The city will use $200,000 of the council's money to further the cleanup of the 17-acre Anamet Industrial site off South Main Street.
The city has already spent about $5.3 million in state and local funds to buy the Anamet site, demolish several buildings and fix the roof of a large industrial building. The city has four additional building it plans to demolish on the site, including a "very dirty," powerhouse with a large brick smoke stack, Hyde said.
Earlier this month, the state awarded Waterbury a $2 million grant for the Anamet site. Another $2 million state grant request for the site is pending.
The city will use $200,000 from the Naugatuck Valley Council of Governments to further cleanup of the 14-acre former Anaconda American Brass site off Freight Street. The site hosted metals manufacturing for more than a century. Beginning in the 1970s, it was used by a company that processed industrial wastes.
The city has spent about $1 million to demolish eight industrial buildings at the Freight Street site. The city has one additional building left to demolish.
The city has about $400,000 left from a previous state grant for the former Anaconda site, but estimates place the demolition of the remaining 15,600-square-foot building at up to $1.1 million. The city has another $2 million grant application with the state pending on this site as well.
Another $86,000 from the council will be used to monitor underground water for pollution at the newly constructed Brass City Harvest Food Hub in the city's South End. That facility was built on a site that underwent an industrial cleanup.
It takes great sums of money and years to tackle polluted sites, but O'Leary said he has been committed to tackling the long-standing problem of abandoned industrial sites from his first day in office in 2011.
With patience, polluted and dangerous eyesores have been made safe and put back on the tax rolls, noting redevelopments at the former Chase Brass and Copper metalworks off Thomaston Avenue and the former Mattaco site in the city's East End.
"You just have to recognize this is the legacy that is left to us and if you don't do anything, like people didn't do anything for decades, they get worse and worse and more and more expensive," O'Leary said.