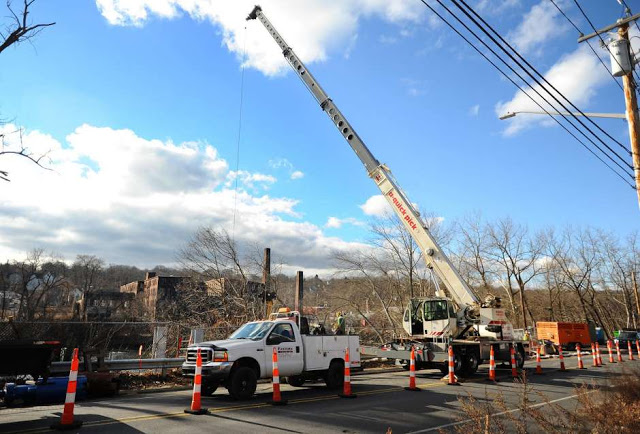 CT Construction Digest Monday April 5, 2021
President Joe Biden's $2.3 trillion infrastructure plan could transform Connecticut. Here's a look at what projects may be funded.

Chris Keating
President Joe Biden's $2.3 trillion infrastructure plan — the largest in American history — is designed to fix the nation's crumbling roads, bridges and railroads while kick-starting the economy at a time when many Americans are still out of work.
The plan over the next eight years is being touted by Biden as a "once-in-a-generation investment in America" that would represent the biggest jobs program since World War II. While Democrats have hailed the proposal, Republicans have already questioned its cost as the nation's overall debt continues to grow.
Advertisement
Here's a look at details of the proposal and how it could transform Connecticut's infrastructure:
What projects might happen in Connecticut?
While the plan has not yet passed in Congress, state officials and construction workers have a wide variety of highway projects that they have been preparing for years. The state transportation department's five-year infrastructure plan mentions the following projects, along with many others:
Advertisement
Advertisement
Widening I-84 between exits 3 and 8 in Danbury.
I-95 corridor improvements from New Haven to New York
Improving the interchange at Routes 7 and 15 in Norwalk,
Upgrading the I-84/Route 8 interchange in Waterbury
Improving I-95 near the highly congested exits 7-8 near downtown Stamford
Repairing the northbound side of the Gold Star Bridge in New London,
Improving the congested interchange of I-91/I-691/Route 15 in Meriden
Designing the removal of the much-criticized traffic signal on Route 9 in Middletown
Improving I-95 at exit 74 at the interchange of Route 161 in East Lyme
I-95 bridge widening in West Haven
Reconstructing the East Haddam Swing Bridge
Reconstructing Route 8 in Derby
What about longstanding complaints about congestion on I-95 in Fairfield County?
"Constructed in the 1950s, the stretch of I-95 between Greenwich and New Haven experiences some of the most significant traffic delays throughout the state,'' the DOT says. "With the recent completion of a data-driven and strategic study, the department will improve portions of the interstate by focusing on targeted projects that modernize the expressway and improve congestion for travelers. The projects realized by this funding will focus on 'hot spot' congestion and safety improvements, rather than linear capacity improvements."
What about the proposed tunnel to improve the I-84/I-91 interchange in Hartford?
"When you've got the No. 1 chokehold in the state, No. 2 in New England, No. 11 in the nation, and when you throw in [problems with] our levees, in terms of need, we rise to the top of the pile," said U.S. Rep. John Larson, D-1st District, the primary proponent of the tunnel project. "This will be ... years in the making. We're going to try to convince the Biden administration that this could be the poster child for infrastructure."
The project could cost "in the area" of $10 billion over multiple years as construction would be done in phases, Larson said.
Would Amtrak benefit in the region?
Amtrak is calling for "enhanced services" across the Northeast with improvements between Hartford and Springfield, as well as Hartford and New York. If approved, new service would be established between Springfield and Boston, along with Hartford and Montreal. Biden gained the nickname of "Amtrak Joe" after constantly riding the train from Washington to his home in Wilmington, Delaware, during 36 years in the U.S. Senate.
Beyond rail, roads and bridges, what other projects would be funded?
The plan calls for more than $100 billion for improving sewers and replacing lead water pipes nationwide, $100 billion for high-speed computer broadband across the nation, $100 billion for public schools, and $100 billion for improving the electric grid, along with establishing new career opportunities in scientific fields,
How would the plan be paid for?
Biden is calling for increasing corporate taxes, which were sliced sharply under President Donald Trump. The rate was reduced from 35% to 21%, but Biden wants to boost the rate back up to 28%.
What does Gov. Ned Lamont think?
"We have a need. We're a pretty old state," Lamont said Thursday. "I'm from a town where the Mianus River Bridge collapsed [in 1983]. We're going to do everything we can in terms of making sure Connecticut is prepared to get to the front of the line."
How weak is Connecticut's infrastructure?
"Almost 70% of Connecticut's bridges are over 50 years old," said Donald J. Shubert, president of the Connecticut Construction Industries Association for nearly 13 years. "That's the fourth-highest percentage in the United States. ... Over two-thirds of major roads and highways in Connecticut are in poor to mediocre condition. Again, 62% of our bridges were built in 1969 or earlier, and those bridges were likely built with a 50-year lifespan."
Who are the key players who can help Connecticut?
Both Lamont and Larson said that U.S. Rep. Rosa DeLauro, D-3rd District, has recently increased her influence as the new chairwoman of the House Appropriations Committee. In addition, U.S. Rep. Richard Neal from nearby Springfield is chairman of the powerful House Ways and Means Committee.
"Chairman [Peter] DeFazio, the head of the transportation committee, has been to Connecticut several times and met with the governor the last time he was here,'' Larson said.
What projects are happening now in Connecticut?
Several multiyear projects include the $240 million reconstruction of I-91 and the Charter Oak Bridge in Hartford, installing rail improvements in Norwalk for $250 million and replacing the Rochambeau Bridge on I-84 at the Newtown border for $53 million.
What else is the state DOT planning?
The department has multiple studies underway, including the Greater Hartford Mobility Study that focuses on "all modes of transportation, including bicycle, bus, car, train, truck, and walking." Other studies are being focused on improvements to the Stamford Transportation Center near I-95, New Haven's Union Station and improving the speed on the railroads.
How much support is there for the plan from unionized construction workers?
Plenty.
"This is for people in the middle class to make a living," said Anthony Mele, president of the Ironworkers Local Union 424 in New Haven. "A lot of our guys lost their benefits. There are plenty of people who have lost their jobs and haven't gotten them back" in restaurants and other industries.
What are the bill's chances in Congress?
"I know we have an uphill fight. Let's be very real," U.S. Sen. Richard Blumenthal told construction workers Thursday in Hartford near a major road project. "We have an uphill fight because what we are proposing here is reversing the Trump tax cut. This plan will eliminate the tax breaks that encourage moving jobs and profits overseas so some corporations pay no tax. ... Reversing the Trump tax cuts will be controversial among some folks in the country, and I know that some of my colleagues have already denounced this plan — they say it's too big. They say it's too costly. I say, We need it for America, for our future."
What's in Biden's $2.25 trillion infrastructure and tax proposal

Laura Davison, Bloomberg
President Joe Biden released a sweeping plan to pump money into transportation, renewable energy, manufacturing and efforts to combat climate change -- funded by undoing some of the tax breaks that corporations received during the Trump administration.
The $2.25 trillion, eight-year proposal is a follow-up to the $1.9 trillion economic relief bill passed earlier this month. To cover the costs, Biden wants to raise corporate taxes to 28% from 21%. The plan also seeks a minimum tax on profits U.S. corporations earn overseas, increasing the rate to 21% from roughly 13%.
The White House plans a second major package, which could cost $1 trillion or more, later in April to focus on social measures, including expanding health care and paid-leave access and extending the child tax credit --offset by tax increases on wealthy individuals.
Biden offered his opening argument for the first phase of spending last Wednesday in Pittsburgh. Here're some of the key elements in the plan:
--Transportation
The plan provides $620 billion for transportation. That includes $115 billion to improve bridges, highways, roads and $20 billion for road safety, which will upgrade 20,000 miles of roads and highways. There's $85 billion to modernize public transportation systems and $80 billion for Amtrak. The plan provides $25 billion for airports and $17 billion for ports, inland waterways and ferries. Biden is also calling for $20 billion for transportation projects for disadvantaged communities.
--Electric Vehicles
The transportation funding would specifically direct $174 billion to electric vehicles, including sale rebates and tax incentives for consumers to buy American-made cars. It also would provide grants to state and local governments and the private sector for 500,000 charging stations by 2030. It includes funds to electrify school buses and federal vehicles such as Postal Service trucks.
--Research and Development
Biden is calling for $180 billion to upgrade the country's research infrastructure and labs at universities and federal agencies. The funding would also be directed toward climate-science research and addressing gender and racial inequalities in the science, math and technology fields.
--Manufacturing Boost
A $300 billion initiative to boost American manufacturing incorporates a number of bipartisan initiatives that Senate Majority Leader Chuck Schumer had planned to move in a broader China bill this spring. Biden will call on Congress to invest $50 billion in semiconductor manufacturing and research -- as envisioned by the CHIPS Act. There's also $50 billion for the National Science Foundation to create a technology directorate, modeled after the Endless Frontiers Act.
In addition, he is asking for $50 billion to create a new office at the Department of Commerce dedicated to monitoring domestic industrial capacity and funding investments to support production of critical goods.
--Workforce Development
Biden is proposing $100 billion for workforce-development programs, including training for those who have lost their jobs, as well as apprenticeship initiatives.
--Electric Grid
Biden is offering $100 billion to build a more resilient electric grid. He is also proposing a 10-year extension and phase-down of an expanded, refundable investment tax credit and production tax credit for renewable energy generation and storage.
The plan calls for high labor standards and allowing workers on the projects to join unions and bargain collectively. The goal is to move toward 100% carbon-pollution free power by 2035. The plan also directs $16 billion to clean up abandoned mines and gas wells.
--Carbon Capture
The plan would create 10 carbon-capture facilities retrofitted in large steel, cement and chemical production facilities. It expands the bipartisan Section 45Q tax credit for carbon capture, making it refundable and easier to claim. Another $10 billion would be spent on a Civilian Climate Corps that employs Americans in conservation work on public lands and waters.
--Clean Water
The plan includes $45 billion to eliminate lead pipes nationwide. It also calls for $56 billion in grants and low-cost loans to states, tribes, territories and disadvantaged communities to improve water systems and $10 billion to bolster rural-well and waste-water systems.
--Broadband Internet
Biden is proposing $100 billion to bring high-speed broadband internet to all Americans. The plan also includes measures to make pricing more transparent and competitive and includes short-term subsidies for low-income households.
--Housing
The proposal would provide $213 billion to build and renovate more than than two million affordable homes. The plan includes tax credits to build housing for low-income families and $40 billion for public housing.
--Schools, Child Care
The plan includes $100 billion to improve public school buildings, with $50 billion in direct grants and an additional $50 billion leveraged through bonds. The plan also calls for $12 billion for community-college facilities and technology and $25 billion to upgrade child-care facilities and provide incentives for employers to offer on-site child care.
--Elder Care, VA Hospitals
Biden is asking Congress to approve $400 billion for housing and care for the elderly and people with disabilities. He is also proposing $18 billion for the modernization of Veterans Affairs hospitals and clinics.
--Corporate Tax Hikes
The plan would raise the corporate tax levy to 28% from 21%, increasing the rate established in President Donald Trump's tax law. The plan would also institute a 15% minimum tax on a corporation's profits for financial-reporting purposes. This would prevent companies from racking up tax breaks to whittle down their tax bill to nothing.
--International Taxes
The plan would also impose a minimum tax on the profits U.S. corporations earn overseas, increasing the rate to 21% from the roughly 13%. It also includes several measures that would penalize companies that move assets and jobs offshore and eliminates current preferences to book profits overseas.
--Eliminate Oil, Gas Tax Breaks
The plan would eliminate all tax preferences for the oil and gas industry and would also require companies that pollute to pay into the Superfund Trust Fund to cover the cost of fuel-related cleanup.
--IRS Audits
The plan calls for additional funding for the Internal Revenue Service to increase audits on corporations. The White House says it will release additional details about tax examinations on individuals in the coming weeks.
Republicans signal support for much smaller infrastructure plan
Laura Davison and Benjamin Bain, Bloomberg
WASHINGTON — Republicans may be ready to support limited infrastructure spending in President Joe Biden's spending proposal, which would require scaling back the $2.25 trillion plan by more than two-thirds, a senior GOP senator said.
With Biden's Americans Jobs Plan on the table for less than a week, administration officials and Senate Republicans took to the Sunday news shows to lay out opposing positions. As Biden faces calls from parts of the Democratic Party to go bigger, Republicans are focusing their opposition on a corporate-rate increase they say will hold back job creation.
Brian Deese, a key adviser who heads Biden's National Economic Council, said the plan is a "one-time, eight-year capital investment" that tackles classic infrastructure projects like repairing bridges, and also includes investments aimed at promoting long-term job growth.
"It'll expand our economy's potential," Deese said on "Fox News Sunday," adding that "we have a long way to go" to restore U.S. employment to pre-pandemic levels in the shorter term.
Sen. Roy Blunt, a Missouri Republican, said he could envisage bipartisan support on improving facilities like roads and airports, and possibly water systems and expanding broadband access — if the administration pared the package to something like $615 billion.
"You'd still be talking about less than 30% of this entire package and it's an easily doable 30%, I think," he said on Fox. "When people think about infrastructure, they're thinking about roads, bridges, ports and airports."
The very meaning of "infrastructure" needs a 21st century makeover, said Cecilia Rouse, chair of the White House Council of Economic Advisers.
"It's important that we upgrade our definition of infrastructure, one that meets the needs of a 21st century economy, and that means we need to be funding and incentivizing those structures that allow us to maximize our economic activity," Rouse said on CBS' "Face the Nation."
Republicans portrayed Biden's bid to cover the cost of the package by raising the corporate income tax to 28% from 21%, a reversal from former President Donald Trump's 2017 tax cut, as a non-starter that would kill jobs.
"Let me just tell you, that's going to cut job creation in the United States of America," Mississippi Sen. Roger Wicker said on NBC's "Meet the Press." The 2017 tax cuts were "a plan that worked," he said.
"I'm all for looking for ways to pay for it" without raising corporate taxes, Wicker said.
Senator Republican Leader Mitch McConnell said in his home state of Kentucky on Thursday that his party won't support the Biden plan as now written, "as much as we would like to address infrastructure."
"The last thing the economy needs right now is a big, whopping tax increase," McConnell told reporters.
Biden's plan faces a tough road ahead in Congress as Republicans have already said they won't vote for a measure paid for by tax increases. Some progressives say Biden's plan isn't large enough. Other congressional Democrats, including Senate Finance Committee Chairman Ron Wyden, said he likes Biden's direction but plans to release his own international tax proposal to fund an infrastructure proposal.
Deese said the administration is willing to have a "conversation" on the plan. He declined to speculate to what extent Biden might be willing to change his plan.
Biden introduced infrastructure-focused economic plan on Wednesday that seeks to upgrade the country's roads, bridges, ports and water systems and also pump money into semiconductor manufacturing, renewable energy and research and development.
The plan also directs funding into other long-held Democratic priorities including electric vehicles, broadband internet and workforce development. Biden said that these investments are critical to the country as it emerges from the pandemic and faces challenges related to climate change and a global economy.
"We're determined to make sure that Infrastructure Week is no longer a punchline around Washington," Transportation Secretary Pete Buttigieg said on ABC's "This Week." "That's what this robust plan will do."
The eight-year proposal is a follow-up to the $1.9 trillion economic relief bill passed in March with only Democratic votes. It seeks a minimum tax on profits U.S. corporations earn overseas, increasing the rate to 21% from roughly 13%. The plan includes several other corporate increases, including more IRS audits on companies.
The White House says it's planning a second proposal in the coming weeks to address so-called social infrastructure including child care, health care and college tuition. That plan will be paid for by tax increases on wealthy households and could cost more than $1 trillion.
"Now is the time to begin addressing our physical infrastructure and our human infrastructure. I want to see that happen as soon as possible," Sen. Bernie Sanders, I-Vt., said on CNN's "State of the Union."
The competing pressures mean Biden's proposal likely will have to be broken up into two or even three pieces of legislation. Some parts will need Republican support to make it through the Senate, while other provisions may be put into fast-track budget bills that need only Democratic votes to pass.
Derby WPCA workers work overtime upgrading old plant

Eddy Martinez
DERBY — Employees at the city's waste treatment plant are getting a lot of overtime overhauling the aging facility.
The work is happening at the same time the Naugatuck Valley Council of Governments is conducting a regionalization study on the area's sewer capacity — and the first phase of the study revealed that the Derby plant — last upgraded in 1973 — is in dire need of major upgrades.
Edward Abel, superintendent of the plant since 2018, said that he was faced with paying for equipment breakdown and weekend plant work when he put together his first budget proposals. The work was needed but it did mean a large increase in overtime for workers during the past fiscal year.
"As far as overtime goes, when we have to stay late to run a piece of equipment, equipment failure, we got to stay late to fix it," Abel said.
The facility is in such a state of disrepair that, he said, the entire plant needed to be overhauled. If the plant is to be modernized without the regionalization plan, it would cost an estimated $70 million over a 20-year span, according to the phase 1 study results.
Abel said he's optimistic that employees will be able to handle the workload without excessive overtime once the plant is upgraded.
Jack Walsh, the chair of the Water Pollution Control Authority, said that the WPCA is making progress on the upgrades outside of the plant as well. So far, three pump stations have been built and there are plans to upgrade 40 miles of sewer pipes.
Many of the pipes are more than 100 years old, he said.
While plant workers are getting overtime this year, they have used less than half of their overtime budget for 2020-21, he said.
"The work on the main plant is the most challenging piece of all this, but none of it has been easy. We're talking about a plant and system that has needed major work for a long time. Every step is costly and complex," Walsh said.
But while plant staff is working overtime, the facility isn't currently hiring additional workers, Walsh said.
"We are waiting for the results of the regional study before making any staff moves," he said.
One thing the regionalization study is expected to look at is whether the area would be better off if its individual waste water plants were consolidated with other facilities in the area.
Rick Dunne, the executive director of NVCOG, said that eventually the study will lay out options for Derby and other cities in the Valley on how they should run their wastewater treatment plants down the line.
But he cautioned that regionalization remains up in the air.
"We would anticipate that towns are going to maintain their own respective collection systems, unless they agree to join into one regional authority. And it's far from certain whether they're going to do that," Dunne said.
As of now, the Derby WPCA is also working on a plan to upgrade the sewer pipes on Main Street. Walsh said he is hoping that construction will begin next year.
Fair Shot: Minority business owners advocate for greater share of state contracts

Matthew Broderick
Magali Verdugo is no stranger to challenges.
In 2004, she emigrated to America from Ecuador and learned English.
In 2013, she started a construction business, a sector in which only 10% of the workforce and 14% of executives are women.
Last year, as the owner and president of American Building Wreckers, an East Hartford-based demolition and asbestos abatement company, Verdugo had to navigate the impact of COVID — which postponed some projects — to sustain her employee base.
And now, Verdugo is accepting a new challenge: advocating for the state of Connecticut to evaluate whether its set-aside program, designed to guarantee minority business enterprises (MBEs) like hers a minimum percentage of state contracts, is adequately meeting the needs, in light of both a heightened national focus on issues of racial equity and the dire impact of the pandemic on minority-owned businesses.
In Connecticut, which first established its set-aside program in 1977, 25% of all state contracts must be allocated to small businesses and at least 6.25% of contracts must specifically be designated for minority-owned companies.
Thirty-eight states have some form of set-aside programs, according to the National Conference of State Legislatures, but Connecticut is one of only a handful that sets a mandated percentage.
But the 6.25% carve out for minorities has not changed in nearly 35 years.
"The percentage [for state contracts] is too small and there's not enough area to grow these [minority] contractors to become more valuable to the [construction] industry," said Charles LeConche, a labor relations specialist for American Building Wreckers.
To encourage the state to examine any disparities in state contracts and, they hope, increase the percentage of state dollars earmarked for minority businesses, Verdugo and LeConche are working with some state lawmakers to pass House Bill 5652 — introduced by Hartford Democratic state Rep. Edwin Vargas — to study the issue. It is one of a handful of House bills currently in the legislature seeking to address racial equity-related concerns.
It's an issue that is already on the radar of the state Department of Administrative Services (DAS), which administers the set-aside program, according to agency spokeswoman Lora Rae Anderson.
The program, which is enforced by the state's Commission on Human Rights & Opportunities, can only legally be changed if the state performs a formal disparity study that shows inequities exist for certain minority groups.
And while funding for such a study has not been approved by the legislature in the recent past, Anderson says, Melissa McCaw, the state's budget chief, intends to commit carry forward dollars in the state budget to fund a disparity study.
"This past year has hit our economy hard and we know … agencies across state government have a role to play in our significant recovery efforts," Anderson said. "We are optimistic about starting this disparity study and [potentially] making required changes based on its results."
Needed lifeline
That focus comes as small employers in general and minority-owned businesses in particular contend with the fallout from COVID, which brought racial disparities into sharper focus, says Glendowlyn Thames, deputy commissioner of the Department of Economic and Community Development (DECD).
"Among the sectors most impacted [by the pandemic] were hospitality, tourism and retail and those are traditional industries that minorities and women operate in," Thames said.
According to the National Bureau of Economic Research, 41% of Black-owned businesses and 32% of Latino-owned companies closed their doors temporarily or permanently last April, at the outset of the pandemic, compared with one-quarter of women-owned companies and 22% of all businesses.
In part, Thames says, that's because minority-owned firms traditionally experience barriers to access capital through traditional lending institutions. In fact, a JPMorgan Chase pre-COVID study found that more than one-half of minority-owned businesses have less than two weeks of operating cash reserves.
That is not the case for Verdugo's company, which generated $2.5 million in revenue in 2020 — modest growth over the past few years.
But she still relied on $100,000 from the federal government's Paycheck Protection Program (PPP) to keep her 30 employees, all minorities, working.
That's an infusion of capital that many minority-owned businesses did not receive. According to Small Business Administration figures, of the 4.9 million loans provided under the CARES Act, only 2% went to Black-owned businesses.
That has put extra pressure on federal and state governments to throw MBEs a lifeline.
Recent changes to the PPP program, which had its deadline extended to May 31, did aim to expand access for minority-owned businesses.
Meanwhile, Thames said the Lamont administration has tried to provide some help, including in October when it committed $50 million from the state's CARES Act relief funds for grants to small employers hit hardest by the pandemic; 50% of the money was designated for businesses in distressed municipalities.
That is a temporary solution to a longer-term challenge. As the state — and its minority businesses — look to rebuild the economy after the pandemic, providing access to capital and creating more access to state-certified projects for minority business enterprises will be an important consideration.
While Verdugo's company is fortunate to have strong working relationships with several construction companies in need of demolition services, and her state-certified status has created numerous business opportunities, Verdugo said her push for greater equity under the state's set-aside program is about more than her or her company; it's about the larger minority community. 
Bridgeport aims to make Sikorsky the southwestern CT airport

Brian Lockhart 
BRIDGEPORT — The city is seeking an advantage in the debate over which airport — Bridgeport's Sikorsky or New Haven's Tweed — should receive state support and, more importantly, state and federal investment to expand post-coronavirus pandemic services and flights.
Mayor Joe Ganim's administration and a pair of Sikorsky's tenants are moving ahead with commissioning a $47,000 study of the airport's potential by the Connecticut Center for Economic Analysis at the University of Connecticut.
Fred Carstensen, the center's director, told Hearst Connecticut Media this week that scrutinizing whether Sikorsky or Tweed is better situated for increased air travel is "not officially part of our remit." But, he acknowledged, "It's inherently in the background."
That is thanks to Gov. Ned Lamont. In the fall of 2019 — about six months before the global coronavirus crisis struck Connecticut — Lamont unveiled a transportation initiative that essentially set up a competition between Sikorsky and Tweed.
"I want to make up our mind on this this year so we can get going," Lamont told Hearst Connecticut Media during a visit to Bridgeport in February 2020. That was just over a month before his and his staff's attention turned to battling the spread of COVID-19, which included temporarily shuttering the economy and limiting travel to keep the public home.
Sikorsky Manager Michelle Muoio on Tuesday told a joint teleconference of the Bridgeport City Council's transportation and economic development committees, "I'm not sure where that effort (Lamont's review of the airports) is now, but with COVID it's not likely in the highest list of priorities."
Muoio went before the council committees seeking support to spend $7,000 on the UCONN center's economic analysis of Sikorsky. She said her two largest tenants — Atlantic Aviation and Three Wing Aviation — would split the $40,000 balance.
Muoio told committee members, who ultimately approved the $7,000, the primary goal is to show what the city, region and Connecticut can "get out of the airport if additional investment was made. What kind of additional value could we bring?"
She said the decision was in part inspired by the "idea that was initially proposed by the governor's office in their transportation plan ... to evaluate what would be the better investment between Tweed and Sikorsky."
"Certainly I can tout the airport and our proximity to Fairfield County and the city (Bridgeport) being the most populous in Connecticut," Muoio said. "But it would be very helpful for this independent resource and expert entity to take that a little further so the city has data to base decisions on."
David Lehman, Lamont's economic development commissioner, on Thursday said the administration was aware of Bridgeport's effort to engage Carstensen and his staff and "very interested" in seeing the eventual findings.
Lehman said while the pandemic has significantly impacted air traffic at regional and large airports, the Lamont administration is still a "big believer" in the importance of convenient flights to and out of the southern and southwestern region of the state.
"Both at Tweed and Sikorsky you've seen incremental movement thinking about the future," he said. "Is there the possibility of having multiple viable airports? I think more work needs to be done on that. ... We're continuing to stay close to both airports and ask for and receive more information on what (they) could ultimately look like."
The Ganim administration, after having initially considered trying to sell Stratford-based Sikorsky because it operates at a $500,000 annual deficit, has over the last few years instead focused on returning regular passenger service there. Currently private planes and charters use the two runways.
"I definitely see that we could bring back commercial service," Muoio told the two council committees Tuesday, suggesting "low cost" family and business travel to Washington D.C., Florida and the Midwest.
That goal is outlined in a new Sikorsky master plan recently submitted to and approved by the Federal Aviation Administration. Tweed, meanwhile, has its own master plan pending before the FAA to likewise position that facility for future growth.
Tweed in 2019 won a decision in the U.S. 2nd Circuit Court of Appeals, saying a 2009 state law limiting the size of the runways is unenforceable and opening up a path for the airport to expand on its own terms.
Lehman emphasized the importance of engaging the private sector "to make sure folks that are perhaps more involved in the industry agree this is a good investment. ... The state plays a role there, but it's important the private sector is also at the table."
Ganim and his aides in 2019 hoped to lure a new airline established by JetBlue founder David Neeleman of New Canaan to build a new terminal at Sikorsky. But the FAA-required runway upgrades could not be done in time to seal that deal.
Muoio told the council committees that the UCONN center's analysis "might open up other doors, other financial opportunities."
Tweed is similarly aiming for an unidentified private investor to fund its proposed new terminal.
Councilwoman Maria Pereira, who has argued most Bridgeport residents "don't care about" Sikorsky, questioned whether the Connecticut Center for Economic Analysis' work would be objective given Bridgeport and two tenants are paying for it.
"Are they cherry-picking data and numbers that will reflect the outcome they want the study to produce?" Pereira asked Muoio.
"It's a legitimate question," Carstensen, who was not part of Tuesday's teleconference, told Hearst Wednesday. He said it is not uncommon for such concerns about bias to be raised, and defended the center's work as "entirely transparent and fully replicable."
Carstensen said on occasion the center has had to tell overly optimistic clients "we don't think you have a good case because we've run the numbers. You can't make the case you think you could." But, he added, 'That's relatively rare because, in most cases, people have a fairly good sense of what the upside potential is."
The UCONN center has previously produced reports on both Sikorsky in 1998 and 2007, and Tweed in 1999 and in 2002.
"We have a lot of experience looking at airports," Carstensen said.
He was also upfront that he believes in the role of Connecticut's airports "to improve our economic performance, which has been absolutely dismal. ... It's a really important issue."
Robert Christoph, Jr. and his father are the owners of Three Wing Aviation. They are also the developers for much of the harborfront along Bridgeport's East Side — the Steelpointe Harbor project — and East End near Stratford's border.
"This (study) is an idea of ours and the airport to move this asset forward," Christoph said Thursday. "It's a great piece of infrastructure for Bridgeport and Stratford. I just want to see it continue to grow (and) hit its true potential."
State Rep. Joseph Gresko, D-Stratford, is an aide to Ganim but also represents the Lordship section of Stratford, some of whose residents over the years have been opposed to additional growth at Sikorsky. Similarly people living near Tweed harbor reservations about talk of expansion there.
"It's a valid concern by the people that live down there," Gresko said of Lordship. However he believes such opposition "has quieted down" in part because of technological advancements that help reduce plane noise.
And Bridgeport a few years ago agreed not to extend Sikorsky's runways, Gresko noted.
Gresko said he will be keeping a close eye on Carstensen's economic study. He understands the need to get the airport out of "the red" but is also looking for any related impact on traffic and the environment.
"Commercial service to me is there might be four, six flights out of there a day," he said. "It's not going to be something that's going to turn into even Westchester (Airport in New York), I don't think."