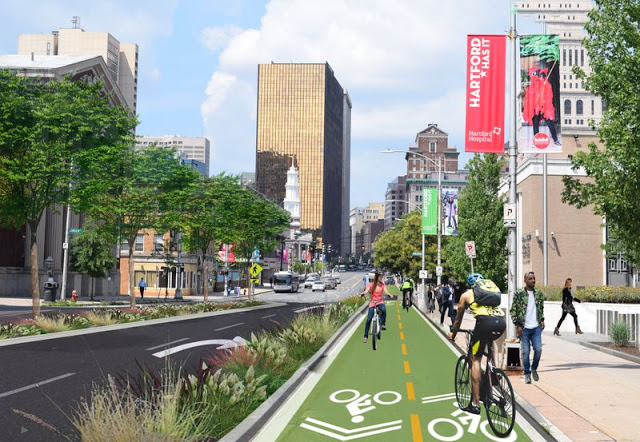 CT Construction Digest Friday November 20, 2020
$10M proposal to transform Main Street in downtown Hartford includes roundabout, bike lanes, street trees

Michael Hamad  For a price of around $9.7 million, a stretch of Main Street in downtown Hartford from the Old State House to Barnard Park could gain a roundabout, a two-way lane for bicycles, street trees, planted medians and mid-block crosswalks, according to an ongoing city proposal.
"We really feel like this is a conservative cost estimate," said Mike Rutkowski of Stantec, the project consultant for the Re-Imagining Main Street initiative. "We can break this project up into segments or hopefully we can do the whole thing at once. ... Overall, I am not shocked by this number."
On a Zoom meeting Thursday, team members for the project welcomed community feedback and outlined changes to the project since its last gathering in September.
The goal is to transform the historic center of Hartford into a safe, bike- and pedestrian-friendly corridor, to slow down traffic and attract retail and restaurants. The project could benefit from more feet on the street; in August, construction began on a $26 million project that will bring 126 apartments over storefronts to the corner of Park and Main streets.
The preliminary design work was covered by a $250,000 grant. Construction from the Asylum Street to Elm Street segment is projected to cost $3 million; from Elm Street to the mid-block fire station another $2 million; the fire station to a roundabout by Park Street another $3.2 million; and improvements to Barnard Park another $750,000. The estimate includes an additional $750,000 for landscaping.
So far, no city money has been put into the project other than staff time.
Sandra Fry, a project manager with the city of Hartford, said that having a design concept in place before seeking funds to proceed with construction was essential. But without funds in place, it's impossible to create a timeline for build-out.
"With a lot of these projects, we go step by step," Fry said. "We really felt that for Main Street a design concept was essential to enable people to really envision how the street could be transformed. There are potential grant opportunities that will be coming up that we can look at to move the project forward."
Hartford Councilman John Q. Gale, who attended the online meeting, wrote: "I love it and will work hard to find the money."
Rutkowski said that projects involving widening streets — not this one — typically run into the tens of millions of dollars.
Most of that would be dedicated to right of way acquisitions, and it probably would never be done, he said. "No one wants to take buildings, no one wants to take private property. We're just trying to re-purpose this area through this corridor and really make it an attractive place for a number of people."
Rutkowski said the roundabout at Park Street is intended to create a gateway to the Main Street corridor. Roundabouts were considered for other intersections along Main Street, he said, but ultimately the team went with just one.
The design team has made minor tweaks since September, including revisions to lane changes, pullouts and parking.
Wind Energy Will Be Built Union

Brian Young  States across the country have begun to institute new rules aimed at lowering their carbon output from energy production. To reach this goal, investments need to made in renewable energy producers like wind and solar. While much of the solar installation is done non-union, a huge new agreement ensures that one of the largest wind producers in the country, the future of energy technology will be built union.
The agreement is between North America's Building and Construction Trades Unions (NABTU) and Ørsted, an international leader in wind technology. The deal sets a model for labor-management cooperation and workforce development in the budding offshore wind industry. Ørsted has a large footprint in the wind industry having been awarded and built offshore wind farms from Maryland to Rhode Island. They have been awarded 2.9GW of power contracts and currently have the largest footprint of any offshore wind developer operating in U.S. waters.
"Ørsted believes the best workers are always the best-trained workers, and we are proud to have earned a strong record of working with skilled union labor to build the country's first offshore wind farm, the Block Island Wind Farm, where more than 300 union workers were employed," said David Hardy, CEO of Ørsted Offshore North America. "We appreciate NABTU's cooperation and the collaborative approach our union partners have brought to this endeavor and look forward to learning from and working with them on this groundbreaking partnership."
As a part of the agreement, Ørsted and their partners will work with the building trades to identify the skills needed to build an offshore wind construction workforce. NABTU unions will then begin to incorporate this training into their retraining and apprenticeship programs and ensure there are enough certified union workers to build an offshore wind infrastructure.
According to the American Wind Energy Association, the 15 current commercial leases for offshore wind development should create 83,000 jobs, 30 GW of power, and $25 Billion in annual economic output over the next decade.
"Today's agreement expands career pathways of opportunities for our members to flourish in this transition," said Sean McGarvey, President of NABTU. "Our highly trained men and women professionals have the best craft skills in the world, and now will gain new experience in deep-water ocean work. Our agreement is based on a successful model developed by the Rhode Island Building Trades for the Block Island Wind Farm project. We commend Ørsted for coming to the table to work in partnership with us and our membership, and we also thank AFL-CIO Secretary-Treasurer Liz Shuler for her help and support throughout the process."
CT adds 14,100 jobs in October, but COVID recovery weakens
Paul Scott  Connecticut's gain of 14,100 jobs in October marked a sixth-straight month of increased employment, but the preliminary data released Thursday by the state Department of Labor also showed that the recovery rate is weakening amid the second wave of the coronavirus crisis.
With last month's increase, the state has now regained about two-thirds of the 291,000 positions it shed during the COVID-related shutdowns in March and April, a toll equal to more than double the number of jobs lost in the state's 2008-10 recession.
But the monthly gains are shrinking, the data shows. The labor department also reported Thursday a revised September job increase of 18,000. The state gained nearly 22,000 positions in August, 32,000 in July, 77,000 in June and 28,000 in May.
The hiring boom in late spring and early summer was catalyzed by the first and second phases of the state's economic reopening.
"In October, we generally saw a continuation of the progress we've made in the past few months," Chris DiPentima, CEO and president of the Connecticut Business & Industry Association, said in an interview. "But continued caution is needed. One, we had a very warm October, and two, our COVID test positivity then was in the 1 (percent) to 2 percent range… Now, we've got positivity in the 5 (percent) to 6 percent range."
Amid the job gains, the rate of unemployment declined for a third-straight month. The official unemployment rate listed in the October report, 6.1 percent, compared with 7.8 percent for September. Last month, the national rate ran at 6.9 percent.
Experts agree, however, that the official jobless rate — which is based on a household survey — significantly understates the actual unemployment level. In October, Connecticut's unemployment rate, in fact, ran at about 11 percent, labor department officials estimated.
The number of added jobs — based on a survey of employers — is also a preliminary number and subject to major revisions even in more stable times. During the coronavirus crisis, the numbers might be even less reliable because employers, for instance, might have workers on short-term furloughs that are changing quickly.
Widespread gains, lingering uncertainty
Last month, private-sector employment increased by 11,200 positions — equal to a 0.8 percent gain— to about 1.38 million jobs. Its headcount was down 5 percent year over year.
The government workforce increased by 1 percent — or 2,900 positions— to about 224,000. It lagged its October 2019 total by 6 percent.
Nine of the 10 major industries in the state grew their workforces. Trade, transportation utilities and leisure and hospitality led with respective increases of 4,400 and 3,600.
Construction and mining was the only sector to lose jobs last month, with a decline of 400.
"This report highlights the resiliency of the restaurant industry," Patrick Flaherty, the labor department's acting director of research, said in a statement. "Among the hardest hit during the pandemic, restaurants are coming back and have gained more than 70 percent of the jobs lost over the past seven months. People will always want to go out to eat, so it's likely that the industry will fully recover."
DiPentima said he was encouraged by the hiring in the leisure and hospitality sector, but still concerned about locally owned businesses in that sector and others such as retail. Employment in every sector is lower than a year ago.
"People need to recognize that this is a time when those local businesses — restaurants, retailers and everyone else — really need our help," he said. "I really advocate for people to shop local."
The extent to which Connecticut can continue to create jobs in the coming months will hinge on how it fares in its containment of COVID-19. The state's infection rate has jumped from the 1 percent to 2 percent range about a month ago to nearly 6 percent in the past week. Hospitalizations have also surged, with 840 in the state requiring in-patient care for coronavirus-related illnesses as of Thursday.
In response to the virus' resurgence, Gov. Ned Lamont earlier this month rolled the state back to a "Phase 2.1" of its reopening, after it had entered a third stage on Oct. 8.
White Oak proposal study results are expected to be ready next year

Brian M. Johnson  PLAINVILLE – White Oak proposal study results are expected to be presented at the Jan. 4 Town Council meeting Town Manager Robert E. Lee announced at the Town Council's most recent meeting.
During the Jan. 16 meeting, Lee said that Loureiro Engineering's study on the two proposals to remediate the former White Oak Construction property near the Municipal Center will take about four more weeks to complete. The $13,500 study will be covered by state grant money left over from the site remediation at no cost to taxpayers.
"They will evaluate environmental considerations, employment estimates, potential tax and permit revenues, potential traffic and parking impact, and the cost of remediation," said Lee. "They will also detail potential benefits to surrounding businesses and review the timeline for each proposal."
Loureiro Engineering will also assist the town in drafting a Memorandum of Understanding with whichever developer is approved. This Memorandum will define the responsibilities of the developer and the town going forward, including specific milestone steps for the property and a timetable.
Lee added that the Planning & Zoning Commission has also reviewed the two proposals and will make their recommendation to the Town Council at the Jan. 4 meeting. Additionally, town staff have contacted Connecticut Main Street Center for their input.
"They offer municipalities a wide range of benefits and services," said Lee. "Their mission is 'to be a catalyst that ignites Connecticut's downtown as a cornerstone of thriving communities.'"
Lee said that the local Economic Development Commission will be meeting with this group to get some perspective on the two proposals as well. They will then report back to town council with their recommendation as well during the Jan. 4 Town Council meeting.
Formerly owned by White Oak Construction, the site sat vacant for many years as town staff worked to clean it up for eventual reuse. Loureiro Engineering was previously contracted for the site remediation study.
There are currently two proposals for reuse of the property.
D'Amato Construction Company, which is currently located in Bristol, is looking to relocate to Plainville if the town approves of their proposal for the property. They have multiple sites throughout Bristol and are looking to consolidate.
"They'd be looking to use the property for a very similar purpose to what White Oak used it for years ago," said Lee.
The other proposal, by Manafort Brothers, Inc., Newport Realty and TWM Development LLC. would see the construction of 155 apartments on the second floor as well as some commercial space on the first floor. It would also see the creation of a 25,000 square foot medical office building. There would also be buildings with large garage doors for use by contractors.
"There would be some 55 and older apartments and some market rate apartments," said Lee.
Contaminated soil case expands with new arrests of former Fairfield officials

Daniel Tepfer   BRIDGEPORT — A cabal of senior Fairfield town officials conspired with the head of a Clinton environmental cleanup company to illegally dispose of hundreds of yards of highly-contaminated soil while assuring town residents and employees forced to work with the material that everything was safe, according to arrest warrant affidavits released Thursday.
One day after former Fairfield Public Works Superintendent Scott Bartlett was arrested for a second time in connection with the contaminated soil scheme, police arrested on Thursday Brian Carey, the interim pubic works director and town conservation director, and Emmet Hibson, of New Haven, the town's former human resources director. 
Former Fairfield director of public works, Joseph Michelangelo, who is already facing conspiracy charges in the case, is expected to hit with additional charges Friday, according to his lawyer.
Robert Grabarek, of Clinton, the owner of Osprey Environmental, was also arrested.
All are charged with illegally disposing of PCBs and solid waste and conspiracy. They are free on promises to appear in court pending arraignment in state Superior Court Dec. 4.
The affidavits are critical of the actions of former Fairfield First Selectman Michael Tetreau in the case, claiming he was constantly in contact with the defendants regarding the contaminated site, downplaying the cost of the cleanup. The affidavits state that after Michelangelo was fired, Tetreau made Carey the public works director with a $24,000 raise. There is no indication that Tetreau will be charged.
Tetreau did not return calls for comment.
"Michelangelo, Bartlett and Carey, under the direction of Tetreau and Hibson, continually represented their decision and actions as saving the town money," the affidavits state. "They represented to the town citizens and the Board of Finance that the material in the berm was not contaminated."
However, the affidavits state that recent estimates are that it will cost the town between $5 and $10 million to clean up the contaminants.
First Selectwoman Brenda Kupchick said Carey, of Fairfield, has been placed on administrative leave. Hibson was fired in January.
"As I shared with residents when I was sworn in to lead the town of Fairfield, I will continue to do everything within my power to regain the public's faith and trust in our town government, which was damaged in the wake of the fill-pile contamination and public corruption," Kupchick said in a statement.
The arrests are the result of a three-year investigation by detectives of the Fairfield Police Department and members of the Office of the Chief State's Attorney that began with citizen complaints regarding a growing pile of debris next to the Fairfield public works garage.
Julian Development had been hired by the town to manage the site and reduce the size of the pile while making sure that nothing hazardous was dumped there. But, according to investigators, the construction company instead began dumping truckload after truckload at the site of contaminated material from their construction sites. Bartlett was later charged with accepting bribes from Jason Julian to look the other way when the dump trucks arrived at the site, allegedly conspiring to allow the dumping with Michelangelo.
In 2016, the town hired Grabarek's company to clean up the site and construct a berm of clean material around the area to present the spread of contaminates. But, the arrest affidavits state, under pressure from Tetreau to "get it done," Grabarek — under supervision from Hibson, Carey, Bartlett and Michelangelo — instead built the berm from the most contaminated material at the site.
The affidavits state that town employees were ordered to work long hours constructing the berm. When some of the employees complained they were concerned that the material they were handling was contaminated, they were told it was no more dangerous "Then the fish you eat from Long Island Sound."
The affidavits state that the berm contains high levels of PCBs, arsenic and other highly dangerous minerals.
While the berm was being constructed, the affidavits state, investigators also learned that Bartlett and the other town officials had authorized contaminated material, which the town had dredged from the Owen Fish Pond, to be dumped at the town DPW site.