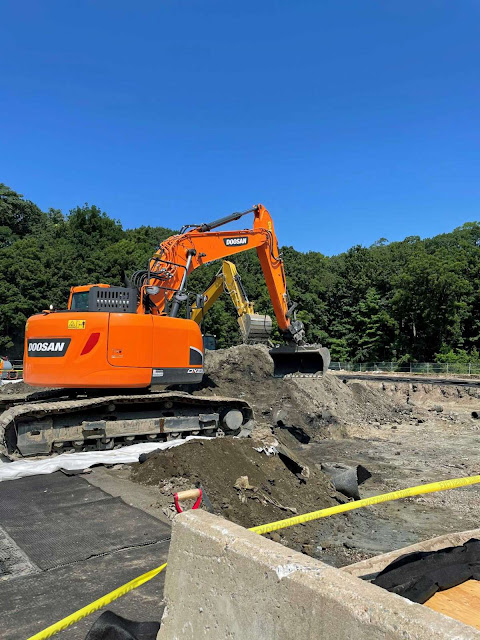 CT Construction Digest Tuesday July 27, 2021
Field remediation at Greenwich High 'moving forward' as soil cleanup stays on schedule
Justin Papp
GREENWICH — Remediation work on one of Greenwich High School's athletic fields is progressing on schedule, according to town officials.
Phase II of the larger fields remediation project at Greenwich High began this summer and will continue into the fall in an effort to remove PCBs and other harmful materials that were first discovered at the site in 2011. The district is carrying out the project in partnership with the Connecticut Department of Environment and Energy and the federal Environmental Protection Agency.
"We are continuing to make progress on the soil remediation project at the high school in partnership with the Town of Greenwich Department of Public Works," Superintendent of Schools Toni Jones said. "The work happening this summer is currently on track as outlined in our community updates."
A first phase of remediation was mostly completed in summer 2020 and involved the replacement of turf coverings on athletic fields 6 and 7 and the insertion of crushed rock on top of the soil beneath.
Phase II is larger in scope and could take three years to complete, according to the school district. It will focus primarily on fields 2, 3, 4 and 5, with the cleanup work conducted during the summer months and the restoration and construction of the fields during the fall.
The cleanup work currently underway has made fields 2, 3, 4, 5, 6 and 7 unavailable for use, according to the district, as crews work in the vicinity of field 4.
Plans for fall 2021 include the installation of a new impermeable cap beneath field 4 and the construction of new artificial turf atop the cap. Field 2, 5, 6 and 7 will be open to the public. A portion of field 3 will also be open to the public, though the length of the field will be limited by the work on field 4.
"Work is occurring Monday through Saturday, all to keep the project moving forward as quickly as possible," First Selectman Fred Camillo wrote last week in his regular community email update.
As Phase II progresses, the school district continues to work with DEEP and the EPA to finalize plans and obtain approval for the remainder of the remediation project on the site.
The remediation project carries an estimated $25 million price tag.
PCBs and other harmful materials were discovered under the high school's western parking lot after work began on the Music Instructional Space and Auditorium in 2011. The contaminated soil had been moved to the site in the 1960s and 1970s to shore up wetlands so the school building could be constructed.
Phase II of the project includes removing hazardous materials, as deep as 10 feet below the ground in some areas, from Fields 3, 4 and 5, on the western side of campus. The aim of the project is to prevent direct contact with the harmful materials, as well as the contamination of groundwater via storm-water infiltration.
State Bond Commission steers nearly $5 million toward CT Shoreline projects

John Moritz
The State Bond Commission steered nearly $5 million toward projects along the Shoreline and Lower Connecticut River Valley Friday, with the money going to fund dam improvements, library renovations, and the building of a new sports facility in Killingworth, among other projects.
The 41-item, almost $1.1 billion borrowing agenda for Friday's meeting was headlined by a pair of high-profile projects: runway repairs for Sikorsky Memorial Airport in Bridgeport and an overhaul of the State Pier in New London.
Dozens of other projects were also greenlit or aided by the sale of state bonds. Those on the Shoreline and in the river valley included the following:
$2.7 million for the Department of Transportation to fund the Local Transportation Capital Improvement Program developed by the Lower Connecticut River Valley Council of Governments
$770,000 to the town of Madison for the replacement of a bulkhead protecting Garvan Point
675,000 for renovations at the Brainerd Memorial Library in Haddam
$500,000 to the town of Killingworth to build a new sports facility
$132,000 to replace the roof of the Deep River Elementary School
$60,000 to repair the dam at Hurd State Park in East Hampton
All of the bond sales were approved with little opposition. As a result, millions of dollars were also earmarked for statewide road projects, new investments in state parks and trails, and energy efficiency improvements in state buildings. The DEEP, which oversees state parks, received a total of $36.8 million in bond funding Friday
"For many of these projects, the state is addressing a lot of delayed maintenance issues, particularly at state parks," said RiverCOG Executive Director Sam Gold, adding that parks received renewed interest during the pandemic. "This is a good first step toward addressing that."
Gov. Ned Lamont, who chaired the State Bonding Commission meeting, released a statement Friday hailing the investment in outdoor recreation.
"If Connecticut residents didn't know before the pandemic how important our trails and conservation projects were before the COVID-19 pandemic, they do now," Lamont said. "These projects will provide safer, cleaner, and more modern outdoor space for residents and visitors to participate in enjoyable, healthy activities.
"I'm also pleased that we're moving forward with a number of clean energy projects to help our state become more sustainable, and plan for the future," the governor added.
Killingworth First Selectwoman Katherine Iino said the town will use grant-in-aid from the state to build a full-sized baseball diamond at the Eric W. Auer Killingworth Recreational Park. The town has been without a full-sized diamond since 2013, when renovations were made to Sheldon Park, she said.
"We've had a long-term plan in place for a while" to build the field, Iino said.
In addition to the new funding that DEEP received Friday, the agency said it recently used state bond money to complete $980,000 in renovations at Gillette Castle State Park in East Haddam and $800,000 for improvements at the agency's Marine Headquarters in Old Lyme.
American Rescue Plan funding floods southeastern Connecticut

Sten Spinella
Southeastern Connecticut munipalities and venues are receiving millions of dollars from the American Rescue Plan Act.
Among local towns and cities, Norwich received the most overall funding of nearly $30 million followed by New London with more than $26 million. Groton Town received about $8.5 million while Groton City got slightly more than $2.6 million. East Lyme, Montville, Stonington and Waterford each received more than $5 million.
Bozrah, Griswold, Lebanon, Ledyard, Lyme, North Stonington, Old Lyme, Preston, Salem, Groton Long Point Borough, Jewett City and Stonington Borough received more than $20 million combined.
Southeastern Connecticut towns and cities were allocated more than $110 million in direct support while U.S. Rep. Joe Courtney's 2nd Congressional district will see more than $250 million.
The money will come in 2021 and 2022 in direct support for municipalities and through funding set aside for counties. Courtney, in a statement, used New London as an example, saying the city will receive $21 million in direct support for municipalities, and $5.2 million through county funding.
Municipal officials are busy drafting plans to spend the funds.
Stonington officials have begun creating a list of items that could be funded with the $5.2 million the town expects. The initial ideas range from paving and HVAC improvements to money for mental health services, local cultural organizations and help for homeowners to make improvements. Voters will approve the final list. 
In Norwich, some of the money is going to an affordable housing partnership. Another portion of the money, $300,000, will be used to support three police jobs once slated for elimination. In addition, funding for human services programs, plans to develop a heritage park at the historic Uncas Leap site, as well as arts funding, economic development and community policing are included in the first half of the city's anticipated nearly $30 million in federal COVID-19 relief funds.
The Montville Town Council has created a committee to manage its $1.8 million in COVID-19 relief funds and has held its first Ad Hoc COVID-19 Impact Study Committee meeting.
In March, Courtney convened a group of five municipal leaders who shared initial thoughts on American Rescue Plan money.
Montville Mayor Ron McDaniel said at the time the town could use the money to offset overtime expenses for custodians and hopefully move forward with ventilation projects at the senior center and town hall.
"Providing this financial assistance right now, in this moment, is exactly what we needed on every level of government," added New London Mayor Michael Passero.
Citing dramatic increases in calls about mental health, substance abuse and domestic violence, Stonington First Selectwoman Danielle Chesebrough said the town was talking about how human services can use some of the money.
Restaurants in Courtney's congressional district are receiving more than $52 million from the American Rescue Plan's Restaurant Revitalization Fund Program spread among 202 establishments. Courtney visited Hot Rod Cafe, Berry's Ice Cream & Candy Bar, 2 Wives Pizza and other eateries in New London last week, all of which received funding from the program. Restaurants can spend the money on payroll, rent, principal or interest on a mortgage, maintenance, supplies, utilities, food and beverage expenses, paid sick leave and supplier costs, as well as anything else the Small Business Administration determines to be necessary.
Money from the Shuttered Venue Operator Grant program, which supports museums, theaters, cinemas and other entities that had to close for a period of time during the coronavirus pandemic, is going to the Mystic Aquarium (more than $6 million), Mystic Seaport Museum ($3.9 million), the Eugene O'Neill Theater Center (almost $1.2 million), the Submarine Force Library and Museum Association (almost $140,000), Niantic Cinemas (more than $280,000), the Goodspeed Opera House in East Haddam (more than $2 million) and the Garde Arts Center ($830,000), among other venues.
In New London County, 16 museums, nature centers, state parks, historical attractions and more were awarded funding through the American Rescue Plan for the "Connecticut Summer at the Museum" program, including Mystic Seaport Museum, Mystic Aquarium, Mashantucket Pequot Museum and Research Center, Fort Trumbull State Park, Florence Griswold Museum and Niantic Children's Museum. The program makes it so children can attend museums and cultural attractions for free this summer.
Billions of dollars are still available nationwide for programs that have not yet launched applications or programs with applications pending review. American Rescue Plan funds extend to education, housing, child care, mental health, public health, airports, rail and other types of programs and grants. The Groton-New London Airport is receiving $59,000 in pandemic relief grant money while Amtrak is receiving $970 million for the Northeast Corridor. The United Community Services health center in Norwich is receiving $3.3 million.
Funding levels will continue to change as more programs are launched and as more rounds of funding are sent out.
Unprecedented surplus in new CT budget may be even larger than legislators thought

Keith M. Phaneuf
When lawmakers adopted a new, two-year state budget in early June, some observers blinked at the unprecedented, $2.3 billion surplus built into the package.
Now, just four weeks into the new budget, it looks as though this fiscal cushion might be fatter by hundreds of millions of dollars.
That's because the revenue forecast used to craft the $46.4 billion biennial package relied heavily on state tax data available only through mid-May. Since then, nearly $500 million extra has poured into Connecticut's coffers, according to reports from Lamont's budget office.
"I don't know if we should be more optimistic [right now] but I think it confirms things continue to go in the right direction," said Rep. Sean Scanlon, D-Guilford, House chairman of the Finance, Revenue and Bonding Committee.
Rep. Holly Cheeseman of East Lyme, ranking House Republican on the finance panel, also was cautious, noting that not all of Connecticut enjoys state government's fiscal good fortune.
"We don't know," she added. "We are looking at an unpredictable economic climate."
What legislators and Lamont do know is that General Fund revenues for the fiscal year that closed on June 30 are being pegged now at just over $20.3 billion — $274 million more than were anticipated in mid-May.
In addition, a special component of state finances captures a portion of income tax revenues tied to capital gains and dividends before they can be spent. Estimates for this savings program — dubbed the "volatility adjustment" because of the up-and-down nature of investment-related tax receipts — grew by $215 million between the new budget's adoption and June 30.
All totaled, that's almost $490 million in last-minute, extra money for the 2020-21 fiscal year.
But traditionally, at least a portion of that type of growth is projected to occur again in the next budget.
Melissa McCaw, Lamont's budget director, was not available for comment late last week, but she wrote in a statement that "The revenue schedule adopted as part of the FY22 and 23 budget remains unchanged."
Lamont's budget office and the legislature's nonpartisan Office of Fiscal Analysis must issue three consensus revenue reports annually, but their next update isn't due until Nov. 10.
Cheeseman said it's better that Connecticut remains cautious about its surplus projections.
The budget Lamont and lawmakers adopted for this fiscal year and next already has a projected, built-in cushion of about $2.3 billion.
If projections hold two years from now, most of those dollars would be deposited as supplemental payments into Connecticut's pension systems for state employees and municipal teachers, which collectively have about $40 billion in long-term, unfunded obligations.
Normally any surplus would be deposited into the rainy day fund. But with close to $3.1 billion already held, the reserve is at its legal maximum, equal to 15% of the state's annual operating expenses.
More importantly, Cheeseman said, the state's economy hasn't fully recovered from the coronavirus pandemic.
According to the Department of Labor, about 165,000 residents still receive weekly unemployment benefits.
And various federal programs that have enhanced state jobless benefits, including one that adds $300 from Washington to weekly state payments, expires on Sept. 4.
Cheeseman also noted that the state government's coffers have benefited from a "crazy high stock market." The Dow Jones Industrial Average closed last week at 35,061, about 30% higher than it was in early March, just before the pandemic struck Connecticut.
But Cheeseman said it also has been unstable of late.
The Dow suffered its worst single-day decline on Monday, July 19, falling 725 points. But by Friday of last week it had recovered all of its losses.
Scanlon, who tried this year to enact state income tax relief for Connecticut's poor and middle class — but was blocked by Lamont — said the surging revenues should only boost momentum for a tax relief debate in 2022.
Because of the unstable economy, the administration argued Connecticut could not be certain it could afford a tax cut at this time.
Scanlon wanted a new child tax credit to give low- and middle-income households $600 per dependent — up to a maximum of $1,800 — off of their state income taxes. This would cost Connecticut about $300 million per year, according to analysts.
Scanlon argued the same economic woes cited by Lamont were the reason so many households need relief now.
Contractors mitigate high prices, supply chain delays with lean construction tactics

Robyn Griggs Lawrence
As a project executive at Chicago's largest general contractor, Joe Pecoraro is accustomed to wielding Skender's clout and financial resources to get his jobs done. When all else fails, money always talks. But right now, he needs a door package to complete a project, and the vendor can't promise it for another four or five months — at any price — because the doors do not exist.
"That's a scary thing as a contractor," Pecoraro said. "When you don't have a tool to fix a problem, and the answer is, 'You just have to wait,' that's a problem. You're working without a net right now."
Contractors across the country are well aware of the situation, the result of what a recent Skender report calls "a unique combination of unrelated factors collectively wreaking havoc on the construction industry" that has been brutal for everyone and potentially lethal for companies caught unprepared. These include the Suez Canal blockage, a Texas ice storm, a COVID-19 manufacturing slowdown, labor shortages, a housing market surge and businesses fully reopening
"It's going to be a lot more obvious to people procuring work right now who the good contractors are," Pecoraro said. "You're not going to see their projects sitting vacant with no guys on them."
Ben Harrison, a 20-year construction industry veteran who is now vice president of product management for data-management company Preferred Strategies, believes the current crisis will push companies that haven't learned how to be efficient out of business. "Competition is keen," he said. "You either improve your processes, or you shrink."
Improved productivity
Despite the challenges, Skender is weathering these issues. The company is one of more than 200 designers, general contractors and trade partners that use lean construction, a collaborative project-management operating system that can dramatically improve scheduling and reduce waste. Lean improves productivity by reintegrating a siloed industry following six tenets:
Respect people.
Optimize the whole.
Generate value.
Eliminate waste. 
Focus on flow.
Continuous improvement. 
"At its core, lean is a change in mindset and a different culture and behavior you create within the team," said Kristin Hill, education programs director for the nonprofit Lean Construction Institute. "We have collaborative ways of teams working, interacting, talking about ideas together and exploring them that just doesn't happen on traditional projects."
Lean practitioners call this transparency "opening the kimono." Hill, who owned an architecture firm in Colorado before she joined the Institute, said it benefits not just the companies involved, but the entire industry. "When I first came into the lean realm, I was shocked and amazed at what people were sharing," she said. "The whole industry rises up together when competitors are helping each other, raising the bar up, up, up."
As an example, Hill cites lean's Integrated Project Delivery agreement, a relational contract signed by owners, contractors and designers before projects commence. "The IPD agreement is about how everyone is going to behave. It's not transactional," she said. "It's leading to teams being able to break barriers, innovate and improve productivity. Lean is about problem-solving collaboratively by bringing different perspectives and viewpoints together."
Harrison agreed and said companies are starting to make big strides in systems integration, which drives efficiency. "With that, we almost always have mobile access to information now with phones and tablets," he added. "Systems integration is tied to mobile access, and that's where companies are really getting a bang for their buck."
The power of technology
The iPhone pushed the Luddite-leaning construction industry into the 21st century, and construction technology has been facilitating leaps in efficiency ever since. Progress reporting on jobsites, for example, can now be done by drones using photogrammetry that provides precise 3D measurements, said Michael Mazur, CEO and co-founder of digital field construction tracking company AI Clearing. Mazur said the technology "allows for highly skilled staff to focus on more value-added tasks, especially in times where access to skilled labor is becoming more challenging."
"Most software is a tool that makes you into three, four people," said Troy Warr, senior software engineer for construction-management software company Computer Presentation Systems, which provides centralized portals for critical documentation, communication tools that eliminate time-consuming phone calls and messages and construction-scheduling templates that can be revised in real time.
Across the industry, companies are looking to technology — everything from 3D-printed building models to barcodes for managing materials — to help them stay afloat through this crunch. Washington, D.C.-based concrete contractor Miller & Long has stepped up its adherence to lean principles, including investing in alternative energy sources, prioritizing proper waste recycling and reducing water usage, said chairman and CEO Brett McMahon. But he believes that BIM — software used to plan, design, construct, operate and maintain buildings that has been around since the 1970s — has been just as crucial. 
"We feel very strongly that BIM will be the standard industry operating system, just like Windows, in the fairly near future," McMahon said. "Everything will flow in the virtual design environment, increasingly, in 3D, 4D and 5D scenarios. BIM models allow you to maximize use of materials in as efficient a way as possible."
While McMahon believes lean and BIM are "changing the industry fundamentally," he also pointed out that many of the core lean principles are simply a throwback to the days when contractors weren't constantly struggling just to keep up with demand. 
"No good contractor wastes, anyway," he said. "But now, tighter focus is critical."
Senators, White House in talks to finish infrastructure bill

Lisa Mascaro
WASHINGTON (AP) — Senators and the White House are locked in intense negotiations to salvage a bipartisan infrastructure deal, with pressure mounting on all sides to wrap up talks and show progress on President Joe Biden's top priority.
Despite weeks of closed-door discussions, senators from the bipartisan group blew past a Monday deadline set for agreement on the nearly $1 trillion package. Instead they hit serious roadblocks over how much would be spent on public transit and water infrastructure and whether the new spending on roads, bridges, broadband and other projects would be required to meet federal wage requirements for workers. They're also at odds over drawing on COVID-19 funds to help pay for it.
Republican negotiator Sen. Rob Portman of Ohio, who took the lead in key talks with a top White House aide, insisted the bipartisan group was "making progress."
"This is heading in the right direction," Portman told reporters at the Capitol. "It's a big, complicated bill."
Biden struck a similarly upbeat tone, telling reporters at the White House he remained optimistic about reaching a compromise.
This is a crucial week after more than a monthlong slog of negotiations since Biden and the bipartisan group first celebrated the contours of the nearly $1 trillion bipartisan agreement in June, and senators were warned they could be kept in session this weekend to finish the work.
The White House wants a bipartisan agreement for this first phase, before Democrats go it alone to tackle broader priorities in a bigger $3.5 trillion budget plan that's on deck. A recent poll from The Associated Press-NORC found 8 in 10 Americans favor some increased infrastructure spending, and the current package could be a political win for all sides as lawmakers try to show voters that Washington can work. Securing the bipartisan bill is also important for some centrist Democrats before engaging in the broader undertaking.
But as talks drag on, anxious Democrats, who have slim control of the House and Senate, face a timeline to act on what would be some of the most substantial legislation in years. Senate Majority Leader Chuck Schumer wants progress on both packages before the August recess, and he told senators to brace for a Saturday or Sunday session.
White House Press Secretary Jen Psaki said Biden himself "worked the phones all weekend," and the administration was encouraged by the progress. But Psaki acknowledged "time is not endless."
Adding to the mix, Donald Trump issued a statement Monday disparaging Senate Republicans for even dealing with the Democrats on infrastructure, though it's unclear what influence he has. The former president had failed at an infrastructure deal when he was in office.
"It's time for everyone to get to 'yes,'" Schumer said as he opened the Senate.
Schumer said Trump is "rooting for our entire political system to fail" while Democrats are "rooting for a deal."
The bipartisan package includes about $600 billion in new spending on public works projects, with broad support from Republicans and Democrats for many of the proposed ideas.
Yet there was little to show Monday after a grinding weekend of talks, putting the deal at risk of stalling out.
The Democrats and the White House had sent what they called a "global" offer to Republicans on remaining issues late Sunday, according to a Democratic aide close to the talks and granted anonymity to discuss them.
But Republicans rebuffed the ideas, saying the new proposal attempted to reopen issues that had already been resolved, according to a GOP aide also granted anonymity to discuss the private talks.
Sen. Susan Collins, R-Maine, said it's time for Biden to become more involved. "I think it's imperative that the president indicates strongly that he wants a bipartisan package," she said.
A top Biden aide, Steve Ricchetti, was tapped for the direct talks as Portman fielded information to the other senators in the group, several senators said.
Democratic Sen. Jon Tester of Montana said, "There were too many cooks in the kitchen."
While much of the disagreement has been over the size of spending on each category, labor issues have also emerged as a flashpoint.
Democrats are insisting on a prevailing-wage requirement, not just for existing public works programs but also for building new roads, bridges, broadband and other infrastructure, according to another Republican granted anonymity to discuss the private talks.
At the same time, transit funding has been a stubborn source of disagreement for the past several days.
Pennsylvania Sen. Pat Toomey, the top Republican on the Senate Banking, Housing and Urban Affairs Committee, which oversees public transit, raised questions about the size of the transit funding increase. He cited, in part, previous COVID-19 federal relief money that had already been allocated to public transit.
Democrats and public transit advocates don't want spending to go any lower than what's typically been a federal formula of about 80% for highways and 20% for transit. They see expanded public transit systems as key to easing traffic congestion and combating climate change.
Psaki has previously said transit funding "is obviously extremely important to the president — the 'Amtrak President,' as we may call him."
The senators also appeared to still be debating money for public water works and removal of lead pipes after Sen. Mitt Romney, R-Utah, raised questions about the amount.
Also unresolved is how to pay for the bipartisan package after Democrats rejected a plan to bring in funds by hiking the gas tax drivers pay at the pump and Republicans dashed a plan to boost the IRS to go after tax scofflaws.
Funding could come from repurposing COVID relief aid, reversing a Trump-era pharmaceutical rebate and other streams. It's possible the final deal could run into political trouble if it doesn't pass muster as fully paid for when the Congressional Budget Office assesses the details.
The final package would need the support of 60 senators in the evenly split 50-50 Senate to advance past a filibuster — meaning at least 10 Republicans along with every Democratic member. A test vote last week failed along party lines as Republicans sought more time to negotiate.
Meanwhile, Democrats are readying the broader $3.5 trillion package, which would go beyond public works to include child care centers, family tax breaks and other priorities. It is being considered under budget rules that allow passage with 51 senators in the split Senate, with Vice President Kamala Harris able to break a tie. That package would be paid for by increasing the corporate tax rate and the tax rate on Americans earning more than $400,000 a year.